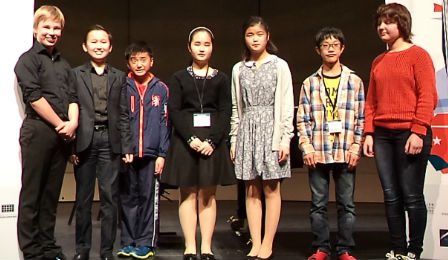 The 7 Junior Finalists for the 2014 Menuhin Competition, in Austin USA, have just minutes ago been announced.
The 2014 Junior Finalists are: Ilana Zaks (13, United States), Rennosuke Fukuda (14, Japan), Elvina Sung-Eun Auh (14, Korea/United States), Jaewon Wee (14, South Korea), Alex Zhou (12, United States), Daniel Lozakovitj (12, Sweden) and Ludvig Gudim (14, Norway).
The Junior competition's Final will be held on Friday 28th February.
For the Final round, each candidate will perform a virtuosic show piece with the University of Texas Symphony, the first movement of a major violin sonata with piano - and the Handel-Halvorsen's 'Passacaglia' with cellist Bion Tsang.
The Junior 1st prize winner will receive US $7,000 – and the 1-year loan of a fine Italian instrument courtesy of Christophe Landon Rare Violins.
The Violin Channel will continue extensive real-time coverage of this year's event.