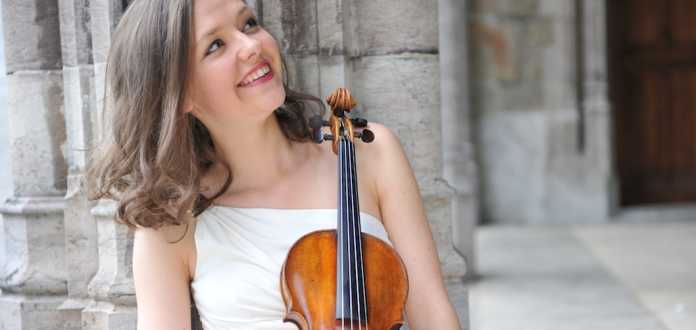 With the 2015 Joseph Joachim International Violin Competition entering its final stages in Hannover, VC recently caught up with a number of former 1st prize winners, to get a better understanding of their time in Germany – and the opportunities the triennial event has presented.
Former 1st Prize winner, VC 'Young Artist' Alexandra Conunova guest blogs about her 2012 experience.
"The 2012 Joseph Joachim International Violin Competition, in Hannover was most definitely one of the most unforgettable experiences of my life – both in terms of challenges and rewards.

I was 23 years old at the time, and my son Gregory was just 2 1/2 months – so just to physically prepare and present the extensive repertoire required for an international competition, of this size was a crazy challenge, to say the least.

We rented an apartment, that I stayed at with my son and our Nanny, in the centre of Hannover  – which we used as our home base.

Any competition schedule is punishing, and I found myself needing to leave home at 9am in the morning, to practice and rehearse – and was rarely able to return home to my family until after 10pm at night.

I was still breastfeeding my son, at the time, and he was teething, so as all mothers can attest, the nights were very short – and the days endlessly long.

Thankfully though, as I had previously been a student at the Hannover Hochschule, I did have the fortune of performing in the concert halls a number of times previously – and I think the familiarity provided comfort to the chaos.

I also had a lot of family and friends attending my performances – providing me with invaluable support and encouragement. They really gave me the wings to fly.

At no point during the competition, or prior, did I ever imagine myself winning the 1st prize –  I was just proud of myself for being there.

It came as a huge surprise when I was announced as the 2012 joint-1st prize winner – but it was a very nice and welcomed gift.

Since winning the competition, the exposure has presented me with many opportunities to perform throughout Europe – and has facilitated the first and crucial steps of my professional career. I am very thankful for this.

Good luck to all 6 finalists this year. It's a tough challenge, but an equally amazing one.

- Alexandra"
[video_lightbox_youtube video_id="7lR8lkCp-JU" width="590" height="385" auto_thumb="1" ]
ALEXANDRA CONUNOVA | SIBELIUS VIOLIN CONCERTO | JOINT-1ST PRIZE | 2012 JOSEPH JOACHIM INTERNATIONAL VIOLIN COMPETITON, HANNOVER