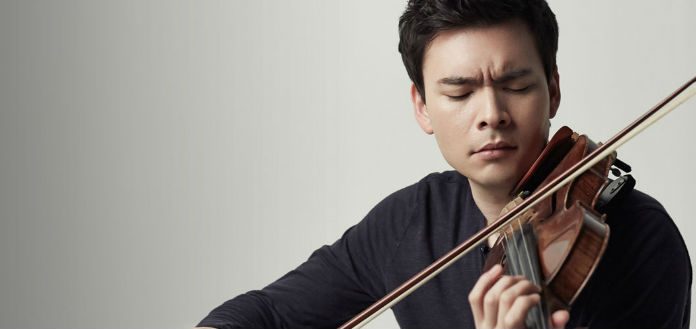 Described by The Washington Post as a "Talent That's Off The Scale," American violinist Stefan Jackiw has established himself as one of today's most outstanding musicians.
A graduate of Harvard University and the New England Conservatory, Stefan has made his solo debuts with the New York Philharmonic, Cleveland Orchestra, San Francisco Symphony, Chicago Symphony Orchestra, Philadelphia Orchestra, Minnesota Orchestra, Dallas Symphony Orchestra, Baltimore Symphony Orchestra, Russian National Orchestra, St. Louis Symphony, Detroit Symphony Orchestra, Pittsburgh Symphony Orchestra, and the London Philharmonic.
Upcoming performances include solo appearances with the Richmond Symphony, Singapore Symphony Orchestra, Baltimore Symphony Orchestra, Indianapolis Symphony Orchestra, and more.
He is also an active recitalist and chamber musician — performing regularly with the Junction Trio. The trio was recently featured in the first season of The Violin Channel Vanguard Concerts.
VC ARTIST JUNCTION TRIO | ROBERT SCHUMANN | PIANO TRIO NO. 1 IN D MINOR | 1ST MVT | THE VIOLIN CHANNEL VANGUARD CONCERTS 
VC ARTIST STEFAN JACKIW | KORNGOLD | VIOLIN CONCERTO | CARLOS KALMAR & ORQUESTA SINFÓNICA DE RTVE | 2012
VC ARTIST JUNCTION TRIO | ROBERT SCHUMANN | PIANO TRIO NO. 1 IN D MINOR | 2ND MVT | THE VIOLIN CHANNEL VANGUARD CONCERTS 
VC ARTIST JUNCTION TRIO | ROBERT SCHUMANN | PIANO TRIO NO. 1 IN D MINOR | 3RD MVT | THE VIOLIN CHANNEL VANGUARD CONCERTS 
VC ARTIST JUNCTION TRIO | ROBERT SCHUMANN | PIANO TRIO NO. 1 IN D MINOR | 4TH MVT | THE VIOLIN CHANNEL VANGUARD CONCERTS 
VC ARTIST JUNCTION TRIO | JOHN ZORN | GHOSTS | THE VIOLIN CHANNEL VANGUARD CONCERTS 
VC ARTIST STEFAN JACKIW & JEREMY DENK | IVES | VIOLIN SONATA NO. 1 | 2020
VC ARTIST STEFAN JACKIW & ANNA POLONSKY | MOZART | VIOLIN SONATA IN G MAJOR | WQXR | 2019
VC ARTIST STEFAN JACKIW & JI | CLARA SCHUMANN | ROMANCES | WQXR | 2019
VC ARTIST STEFAN JACKIW | PROKOFIEV | VIOLIN CONCERTO NO. 2 IN G MINOR | ANDREW LITTON & ORQUESTA SINFONIA DE GALICIA | 2017
VC ARTIST STEFAN JACKIW | BRUCH | SCOTTISH FANTASY | RUMON GAMBA & ORQUESTA SINFONIA DE GALICIA | 2014
Name: Stefan Jackiw
Violin: 1704 Vincenzo Ruggieri, Cremona
Bow: F.N. Voirin
Strings: Thomastik Dominant G, D, A | Jargar Forte E
Accessories: Wolf Shoulder Rest/Viva La Musica Shoulder Rest, Liebenzeller Rosin
Teacher: Donald Weilerstein
School: Harvard University | New England Conservatory
Website: www.stefanjackiw.com
Facebook: @StefanJackiw
Instagram: @stefanjackiwviolin