New York's David Geffen Hall Set to Receive $550 Million Makeover
Lincoln Center and the New York Philharmonic have unveiled plans for a major $550 million renovation of the David Geffen Concert Hall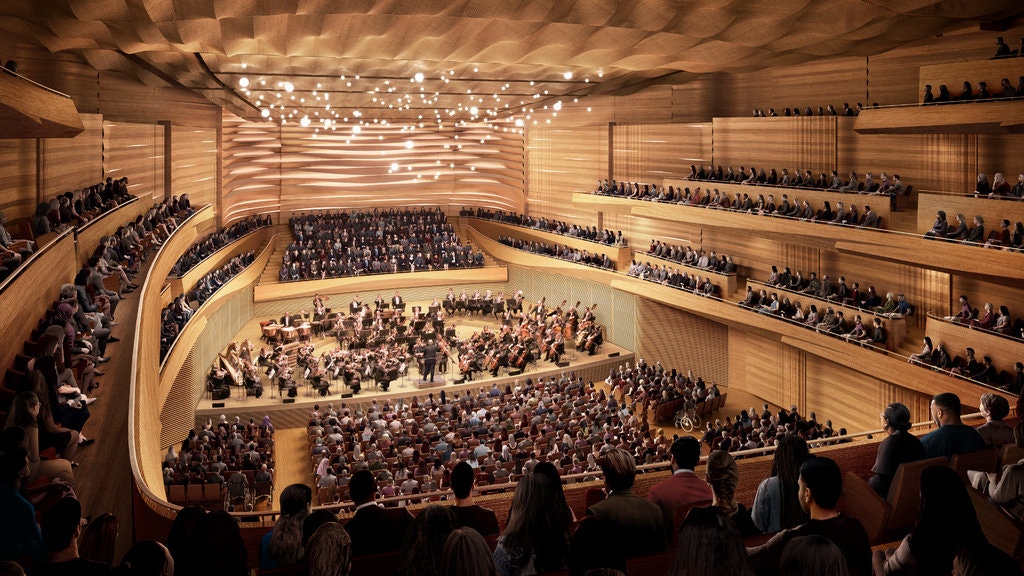 Lincoln Center and the New York Philharmonic have today unveiled plans for a major $550 million renovation of the David Geffen Concert Hall - in New York City.
The reimagining will see the existing stage, home of the New York Philharmonic, move forward by 25 feet with the audience seating to then wrap around it.
It will also see the lower entrance lobby double in size, with the addition of a new bistro and media wall - plus the inclusion of a number of innovative initiatives to provide more visibility of the space to the street environment, so to connect life inside with the world outside it.
Since the concert hall's opening in 1962, the venue has historically been viewed as having a cavernous interior and troublesome acoustics.
The seating capacity following the renovation will be reduced from 2728 to 2200 seats - but a steeper incline will be added to the orchestra level to significantly improve the listening experience and sight-lines.
$360 million of the funds required for the transformation have already been raised, Lincoln Center President Henry Timms has today said.
"As a veteran of two major concert hall projects, I can say that the clear goals, the rigorous planning, and the actual design for the new David Geffen Hall give me confidence that this will be a singular success …." New York Philharmonic President, Deborah Borda has today said.
"The partnership we have formed with Lincoln Center is very real and very critical to all that is occurring … at long last, David Geffen Hall will be a superb and connected musical venue," she has said.
The project will commence in 2022 - with a schedule for completion in 2024.
To complete the overhaul, the venue will require two relatively short closing periods from May-October, 2022 and May 2023-February, 2024.
The New York Philharmonic will return to its original home, at Carnegie Hall, during these periods, Deborah Borda has indicated.
The architectural design and construction management of the new hall will be undertaken by Diamond Schmitt Architects, in New York City - with acoustic design headed by Akustiks.
"This project is all about greater connections …" Henry Timms has today said.
"The new concert hall will unite performers and audiences … the dynamic public spaces will allow our communities — from visiting schools to concertgoers wanting to stay for a drink — to connect with each other … and the whole project re-sets how we engage with the outside world."