Stolen 1734 'Ames-Totenberg' Strad Ready to Return to the Concert Stage
The 1734 'Ames' Stradivarius violin, stolen in 1980 and only recovered in 2015, is set to make a return to the stage - following an extensive year-long restoration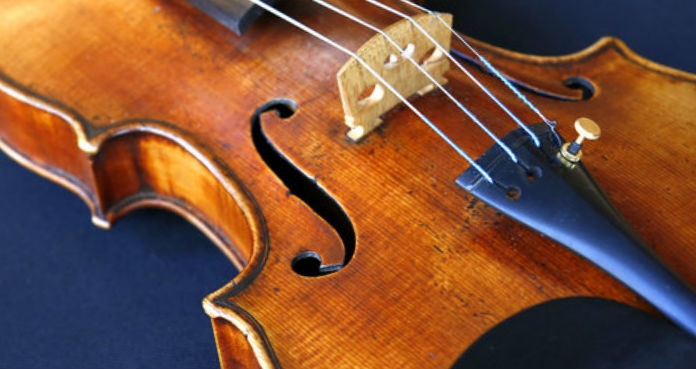 It has been announced this week that the 1734 'Ames' Stradivarius violin, stolen in 1980 and only recovered in 2015, some 35 years later, is set to make a return to the stage this coming Monday - following an extensive year-long restoration.
STOLEN STRADIVARIUS RETURNS TO STAGE | 1734 'AMES' STRADIVARIUS VIOLIN | ASSOCIATED PRESS
"The violin had been pretty much neglected … [but] the guy had obviously glued it himself - there were signs of Super Glue and Elmer's Glue …" Bruno Price from Rare Violins of New York, who oversaw the instrument's restoration, has said.
The instrument was stolen from violinist Roman Totenberg after a concert at Bard College's Longy School of Music, in Cambridge, Massachusetts in 1980.
At the time, Mr Totenberg told authorities he believed the instrument was stolen by a young violinist, Philip Johnson, who was seen in the vicinity of the crime – however police insisted there was not enough evidence to demand a search of the man's apartment.
The violin surfaced in June 2015 when Johnson's former wife brought the instrument, she claims she inherited from her now deceased ex-husband, to Pittsburgh violin dealer Phillip Injeian for appraisal – and it was identified and reported to the authorities.
"While he was greeting well-wishers after a concert, it was snatched from his office ..." Mr Totenberg's daughter Nina said at the time of the recovery.
"... My father would dream of opening his violin case and seeing the Strad there again - but he never laid eyes on it again …" she said.
Roman Totenberg died in May 2012, aged 101, and did not live to see the instrument returned.
CBS NEWS SUNDAY MORNING | "A STOLEN VIOLIN" | FRANCES COLE & ROMAN TOTENBERG | 1981
It is understood Mr Totenberg, who throughout his distinguished career served on faculty at the Longy School of Music, Peabody Conservatory, Mannes College and the Aspen School of Music, had purchased the instrument in 1943 for US $15,000.
The Totenberg family have indicated that they do plan to sell the violin, but have asserted a strong desire for it to stay in the hands of another great artist and be played in concert halls all over the world.
Violinist Mira Wang, a former student of Roman Totenberg, will play the newly-restored 'Ames' Stradivarius in a private concert in New York on Monday evening.