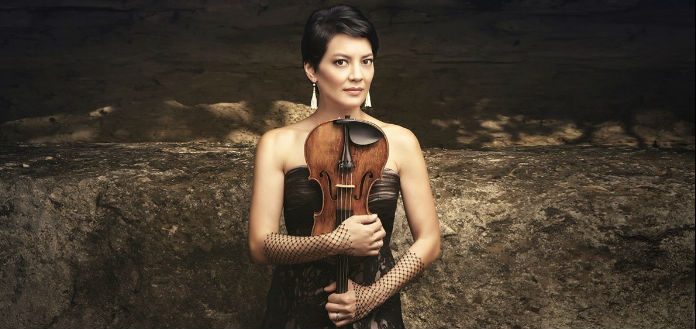 The Violin Channel member Richard Chen, from the United States was keen to know: "What are the essential stretching exercises for string musicians?"
We threw Richard's question over to American concert violinist Anne Akiko Meyers:
"Hi Richard,
Having performed professionally for more than 30 years, I am keenly aware of how my body is affected and feels before, during and after practice/performing. Musicians are definitely athletes. We use our fine motor skills and muscles repetitively and require our bodies to be able to hold up to demanding practice and touring schedules. Not to mention the strain of carrying our suitcases, carry-on luggage and violin case. Fly 15 hours scrunched in a plane and jump 10 time zones to perform a Prokofiev Concerto without getting hurt or jet lagged, sure, no problem!
I believe deeply in cardio exercise, stretching, deep tissue massage, rolfing, acupuncture, rest. Eastern medicine remedies for our very Western music making. Many of the therapies have helped me tremendously to stay active, keep my tissue healthy and body calm with the challenging travel and strenuous performance schedule.
Playing the violin or viola puts tremendous strain on one's body. Your head is torqued, while compressing the instrument with your neck. Your arms are working in opposite directions and the weight in your body is not evenly distributed, with the bow arm resembling a bow and arrow. It puts great strain on your shoulders, arms, hands, neck and back.
The door jam is extremely helpful for stretching shoulders and arms and requires no equipment to pack in your already overstretched luggage (I am speaking for myself!). Put your arms in the door jam, like you are in a hold-up and walk into the stretch.
Another great one is to go into a corner and put your weight into the stretch in your chest. For your wrists, make a fist, with your arms in front of you and gently push down the wrist using your opposite hand.
In addition to stretches and therapies, being aware of your breath is incredibly helpful. Walking while playing or warming up with your scales, will focus you on your breathing.   Music making is not possible without your body feeling relaxed and calm.
-Anne"
Do you have a burning question for one of the Pros? Simply email: [email protected]