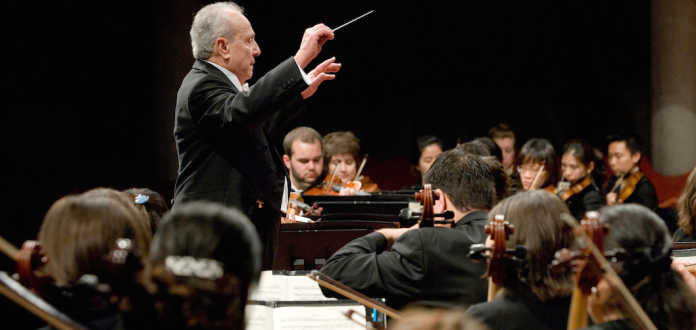 VC recently caught up with American conductor and violinist Maestro Anshel Brusilow to get a better understanding of what to expect, and how best to prepare for the orchestral audition process.
Here, the 87 year old former Concertmaster of the Philadelphia Orchestra and former Music Director of the Philadelphia Chamber Orchestra and Dallas Symphony guest blogs about his experience.
"You've been given a list of music to prepare. Of course, you must learn to play everything perfectly. If you've never played a piece, listen to a recording of it and play along. Do you feel as if you blend in with the orchestra? Nice, but turn it off and play alone.

At the audition, tune your instrument backstage—don't waste the conductor's time. You can do a quick check when onstage.

Nerves are an enormous factor. Because of nerves, a musician's full ability is rarely on display. Auditioning is much worse than playing to a packed house. Unlike a big audience, the conductor will miss nothing. Plus, principals who sit with their conductor during auditions may point out your mistakes so the conductor knows that they are paying attention. Yours is not the only ego in the hall!

The first weapon in your stress-control arsenal: your eyes. Never look out into the audience. Why would you want to look at an empty house with one or two people sitting near the front, one of them being the scariest person in the world?

No. Just don't do that.

This is what you want. You want to be playing alone. Like when you're practicing at home and play the solo perfectly. No one is listening. Your head is in the music, and your fingers are limber and glide effortlessly over your instrument. Your bow control is impeccable. 

You will not, however, be completely alone on the stage. A nice person is provided to set the music out for you. You can say hello to this person. (Do not say hello to persons sitting in the audience. Anyway, you have not seen them, right? Where the conductor is concerned, you are like a child in the olden days who speaks when spoken to.) It sometimes happens that your assistant on stage is someone you know, and you would like to chat about their new baby.

No. Save that for later. You are professional every minute. Your dress is professional, and your hair. Your demeanor is professional. You should stand up—like a soloist—unless you are a cellist. Face the hall, though your eyes will stay on the music. If you make a mistake while playing, keep going just as you do when performing.

Bring your music with you with your own markings, fingerings, etc. To your stage assistant, you can say, "I happen to have that piece with me. Can I use my own?" If this is allowed, it will increase your feeling of security.

Be prepared for the unexpected. If you are asked to play the bottom line in a piece that is divisi and it is unfamiliar, ask your the assistant for a minute to look at it. You may be given a piece of music that was not on the list at all. Many conductors want to know a player's sight-reading ability. You can ask the assistant for a few moments to look at the part. Sight-read it in your imagination, and wrap your mind around the problem areas.

If you are invited to play part of a solo of your own choosing, don't pick something slow and simple. You only have these few minutes to show off your technique, proficiency, tone, and musicality. Go for it!

When the audition is over, unless the conductor addresses you or comes onto the stage, leave. Yes, leave. Don't ask why you were only asked to play two pieces, or how your playing sounded, or when you will hear from them, or thank them. Just leave with dignity.

- Anshel Brusilow"

 
Maestro Brusilow's memoir "Shoot the Conductor: Too Close to Monteux, Szell, and Ormandy" is available now at at tamupress.org, Amazon, and selected bookstores.