Applications Open for 7th Mirecourt International Violin Competition
Open to violinists from all nationalities, born after November 4th, 1997, the competition will be held from November 4-12, 2023, in France
The Mirecourt International Violin Competition, organized by the Jeunesses Musicales de Mirecourt, will take place in Mirecourt and Thaon-les-Vosges, France.
The competition consists of a video pre-selection, 2 qualifying rounds, and a final round. All the rounds will be open to the public.
The 2023 jury will comprise Christian Altenburger (Austria), Nora Chastain (USA), Hu Kun (China), Alissa Margulis (Russia), Mihaela Martin (Romania), Lavard Skou-Larsen (Brazil), and Marianne Piketty (France).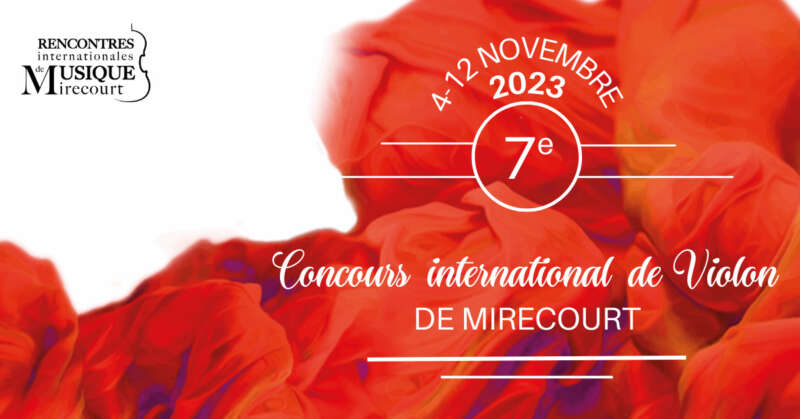 The prize winners will receive:
1st prize: € 5,000
2nd prize: € 3,000
3rd prize: € 1,000
4th prize: € 500
Several special prizes will also be offered — including a modern bow prize, valued at €4,000, a prize for the best interpretation of the contemporary piece, one for the best interpretation of the French sonata, and the Special Prize of Contemporary String Instrument Manufacturing including a two-year-lent-violin by David Wiedmer.
Open to violinists from all nationalities, born after November 4th, 1997, applications are to be received by July 1, 2023. For more information and to apply, click here.
Former first prize winners include Nathan Mierdl and Jian Ren, Yuna Ha, Roman Kholmatov and Yuliia Van, and Qingzhu Weng from the last edition.