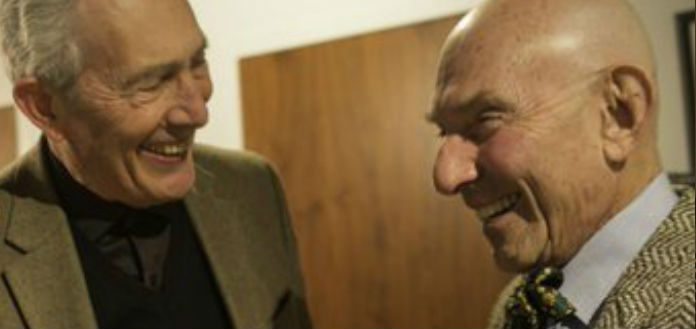 The Violin Channel recently caught up Guarneri Quartet violinist, Arnold Steinhardt – a close friend and former colleague with cellist Jules Eskin - who passed away earlier this month, aged 85.
In a VC-exclusive blog, Mr. Steinhardt pays tribute to his beloved friend and fellow musician:
"My first job out of music school in 1959 was as assistant concertmaster of the Cleveland Orchestra. Two years later, Jules Eskin arrived as its principal cellist. Jules and I quickly became good friends and for a period of time we shared a house together.   Over coffee one morning, Jules told me that The Carnival of the Animals by Camille Saint-Saëns had been scheduled for performance and that he would be playing its renowned cello solo, The Swan. From that point on, Jules practiced The Swan daily. The snippets of phrases I occasionally heard as I passed in and out of our house sounded beautiful, but Jules, apparently unsatisfied, continued to work on the solo. I was amused at first. Granted, it was a lovely melody but how much time can one devote to something so simple, so naïve.
 
One day, Jules called me into the living room where he practiced and asked my advice on how to shape a particular phrase. He played the phrase and looked up questioningly. To the best of my recollection, it sounded utterly convincing and for the moment, I could think of nothing to say. "Here's another idea," Jules said. Let me play it again and tell me which is better." He played the same phrase a bit differently. "I think I like the first version better." Jules nodded and played the phrase once more but in a softer, far more intimate manner. "That was beautiful", I said, becoming unwittingly more involved, "but what if you played more intensely in the middle and relaxed at the end." Jules tried the phrase once again, and with every further suggestion yet again. "Interesting ideas," he said thoughtfully, "but I'm still not sure what would be best. Thanks for listening, anyway." Our discussion about a section of music lasting no more than fifteen seconds had taken easily five minutes.
 
The next morning at breakfast, Jules and I began discussing The Swan in more detail, but he quickly became impatient. "Let me just play the whole thing for you. Then we can talk." Jules' playing was beautiful, but he shook his head as the last note faded away and suggested several possible phrasing alterations both small and large. In the coming days, Jules continued to practice the solo and I stepped into the living room more and more. An eves-dropper might have thought we were probing the depths of a late-Beethoven string quartet. Eventually, accompanied by the gently rocking arpeggios scored for two pianos, Jules performed The Swan ravishingly.
 
Jules and I both left the Cleveland Orchestra in 1964, he to become the principal cellist of the Boston Symphony, I to join a much smaller ensemble, the Guarneri String Quartet, but we have remained close friends.   Somewhat recently, I brought up our Swan encounter. To my surprise, Jules had no recollection of the fierce battle he once waged with it in his living room over fifty years ago. The event must have made some subliminal impression on him, however. Jules told me he demands that all cellists auditioning for the Boston Symphony play The Swan. He said, "Once I hear a cellist play The Swan, I know absolutely everything I need to know."
 
Jules Eskin passed away on November 15th. I will miss him as a dear friend and as a compelling musician, and I will miss some of the most beautiful sounds I've ever heard that came out of his cello.
-Arnold"
Extract from 'The Swan' provided courtesy of www.keyofstrawberry.com