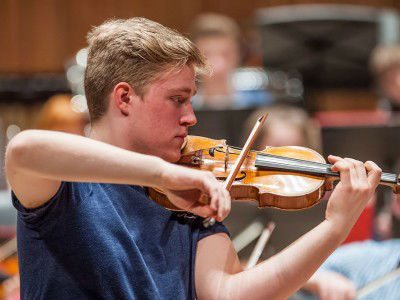 The 25 Category Finalists for the 2016 'BBC Young Musician of the Year' Awards have today been announced.
Widely regarded as the UK's leading competition for young classical music soloists 18 years and younger, previous winners include violin virtuoso Nicola Benedetti and VC 'Artist' Jennifer Pike.
The 2016 Category Finalists are:
Strings: Stephanie Childress (16, Violin), Sheku Kanneh-Mason (16, Cello), Charlie Lovell-Jones (16, Violin), Joe Pritchard (16, Cello) and Louisa Staples (15, Violin).
Keyboard: Jackie Campbell (15, Piano), Tomoka Kan (17, Piano), Harvey Lin (13, Piano), Julian Trevelyan (17, Piano) and Yuanfan Yang (19, Piano).
Woodwind: Polly Bartlett (17, Recorder), Lucy Driver (17, Flute), Jess Gillam (17, Saxophone), Joanne Lee (15, Flute) and Marie Sato (15, Flute).
Brass: Sam Dye (16, Trombone), Zak Eastop (18, Trumpet), Ben Goldscheider (18, French Horn), Zoe Perkins (17, Trumpet) and Gemma Riley (17, Trombone).
Percussion: Matthew Brett (14), Hristiyan Hristov (17), Joe Parks (16), Tom Pritchard (18) and Andrew Woolcock (16)
The Category Finals will take place from the 6-10th March at the Royal Welsh College of Music and Drama – with the Grand Final to be held on the 15th May at London's Barbican Centre.
PICTURED: 2016 String Category Finalist, Violinist Charlie Lovell-Jones