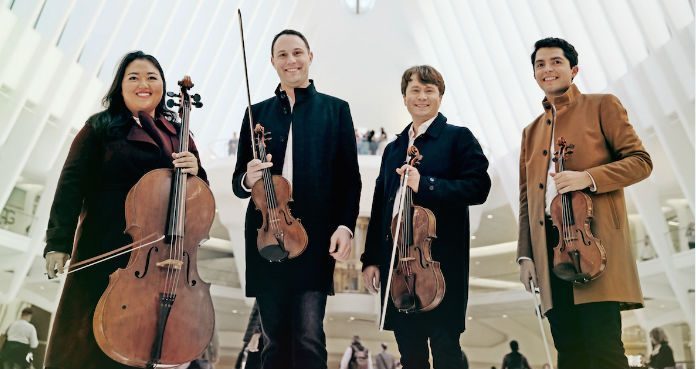 It has been announced today that the New York-based VC Artists Calidore String Quartet has joined the roster of IMG Artists, in London - for European general management.
Comprising violinists Jeffrey Myers and Ryan Meehan, violist Jeremy Berry and cellist Estelle Choi, the Calidore Quartet is a former top prize winner at the M-Prize, Fischoff, Hamburg and ARD International Chamber Music Competitions.
The ensemble will be managed by Elena Kostova and Agnieszka Mikus from IMG's London office - but will continue North American representation with Opus 3 Artists, in New York.
https://youtu.be/QN9RL_IzBZg
VC ARTISTS CALIDORE STRING QUARTET | MENDELSSOHN STRING QUARTET NO. 6  | 3RD & 4TH MVTS | 2016 M-PRIZE CHAMBER MUSIC COMPETITION | 1ST PRIZE
"Following our recent concert at Wigmore Hall, we met Agnieszka Mikus and Elena Kostova and felt their drive, ambition and passion for our music making ..." 2nd violinist Ryan Meehan has told The Violin Channel.
"It is evident from the incredible work they have done for such esteemed artists as the Emerson Quartet that they are tremendous advocates for their artists ..." he has said.
"We are thrilled to join the IMG family for our General European management and look forward to this fantastic new phase of our career."
IMG Artists' roster also includes the Australian Chamber Orchestra, Emerson String Quartet, Julia Fischer Quartet and the Swedish Chamber Orchestra.