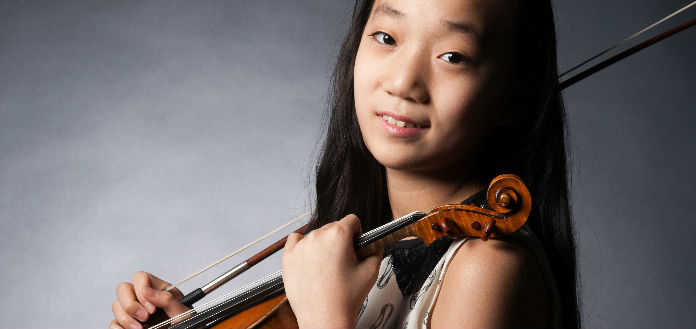 15 year old Elli Choi from the United States has been awarded the 'Prince Rainier III' 1st prize at the 2016 Monaco World Music Masters Competition, in Monte Carlo.
Founded by Jean-Marie Fournier in 1989, the World Monaco Competition is open only to competitors who have already been finalists at other major international competitions - providing candidates a chance to compete for one 1st prize.
A student of Ida Kavafian at the Juilliard School Pre-College and Zakhar Bron in Switzerland, Elli is a former 1st Prize winner at the Lipinski & Wieniawski International Violin Competition for Young Violinists and the Young Virtuoso Competition, in Bulgaria.
Since 2013, Elli has been an artist under the concert management of Zakhar Bron Akademie, in Switzerland.
Zakhar Bron served on the jury of this year's competition.
The 2016 jury comprised: Rene Croesi, Zakhar Bron, Maxim Vengerov, Patrice Fontanarosa, Jean-Marie Fournier and Boris Brott.
"Rather than being composed simply of soloists or teachers, who tend to favor their own students, the jury's members include concert performers, festival directors, critics and even a non-professional, whose vote carries the same weight as the other members of the jury and who, in many ways, represents the public", the competition's website has proclaimed, despite Bron's role on the jury and apparent position as the 1st prize winner's manager.
Elli, who was a Semi-Finalist at the 2016 Menuhin Competition Junior Division, will receive €30,000 (US $34,000) and a number of international concert engagements.
https://www.youtube.com/watch?v=Aoqi4JyCaew&showinfo=0&autohide=1
ELLI CHOI | WIENIAWSKI | ETUDE-CAPRICE NO. 2 | 2016 MENUHIN COMPETITION
The result comes just weeks after public concern was sparked over teachers voting for their own students at the 2016 Shanghai Isaac Stern International Violin Competition, in China.