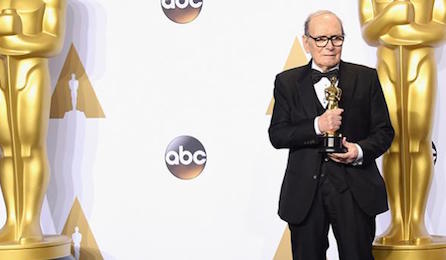 87 year old Italian composer, Ennio Morricone has been awarded the 'Best Original Music Score' Academy Award - for his soundtrack to the Quentin Tarantino-directed western 'The Hateful Eight'.
He beat out fellow nominees Carter Burwell (Carol), Thomas Newman (Bridge of Spies), Jóhann Jóhannson (Sicario) and John Williams (Star Wars: The Force Awakens) for the accolade.
"There isn't a great soundtrack without a great movie that inspires it," Mr Morricone, a 5-time nominee, has said in his acceptance speech.
He Morricone becomes the oldest ever Oscar winner in any category.
Mr Morricone is best known for his acclaimed scores to 'Days of Heaven were for The Mission' (1986), 'The Untouchables' (1987), 'Bugsy' (1991) and 'Malèna' (2000).