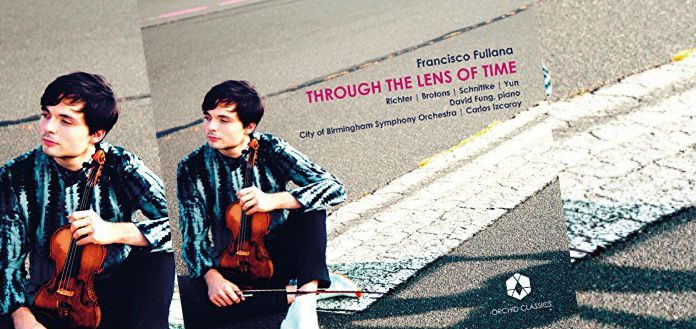 Orchid Classics has today announced the release of Spanish violin virtuoso, VC Artist Francisco Fullana's debut album 'Through the Lens of Time' - featuring works by Max Richter, Isang Yun, Alfred Schnittke and Salvador Brotons.
Recorded with conductor Carlos Iszcaray, pianist David Fung and the City of Birmingham Symphony, the disc conceptualized around Max Richter's 'The Four Season Recomposed', brings together four modern re-imaginings of the Baroque tradition.
"The idea for this disc came after a life-changing performance of Richter's 'Four Seasons Recomposed' with conductor Carlos Izcaray a couple of years ago … we got together that same day and said "we have to find ways to do this together again" ..." Francisco has told The Violin Channel.
"Carlos' energy and my own approach to Richter's score came together so easily ... there was a natural flow to the music-making that was truly special and satisfying," he has said.
"My hope is that the listeners just sit back and allow us to take them on a musical journey through the centuries ... they should allow themselves to be surprised by the familiarity of some moments ... and embrace the freshness and creativity of others."
Track previews available now on Amazon and iTunes: