VC 'Young Artist' InMo Yang Awarded 1st Prize at Paganini International Competition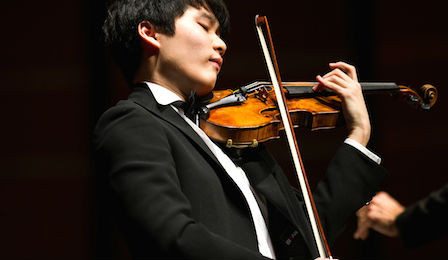 19 year old VC 'Young Artist' InMo Yang, from South Korea has today been awarded 1st Prize at the 2015 Paganini International Violin Competition, in Genoa, Italy.
2nd prize was awarded to 20 year old Fumika Mohri from Japan - and 3rd prize to 23 year old Albrecht Menzel from Germany.
4th, 5th and 6th prizes were awarded to Diana Pasko from Russia, Elly Suh from the United States and Dainis Medjaniks from Latvia.
A student of Miriam Fried at the New England Conservatory in Boston, InMo is a former prize winner at the Munetsugu Angel, Joseph Joachim, Tchaikovsky, Kloster Schontal and Menuhin International Violin Competitions.
Previous 1st prize winners include: Salvatore Accardo, Leonidas Kavakos, Viktor Pikayzen, Miriam Fried, Gidon Kremer, Eugene Fedor, Ilya Kaler, Isabelle Faust and Feng Ning.
InMo will receive 20,000 Euro (USD $22,000) and a number of prestigious European performance opportunities.
'
INMO YANG | PAGANINI | SOLO CAPRICE NO. 1 | MENUHIN COMPETITION | 2014