INTERNATIONAL DAY OF THE GIRL
INTERNATIONAL DAY OF THE GIRL | Conductor Marin Alsop on Pursuing a Career as a Female Conductor
VC reader Elisabeth Bart from England was keen to seek some expert career advice on pursuing a professional conducting career
To help celebrate today's United Nations "International Day of the Girl," The Violin Channel, in collaboration with our good friends at the Dallas Symphony Orchestra, is hosting an all-day special online festival dedicated to gender equality and inspiring the next generation of women in classical music.
We connected acclaimed American conductor Marin Alsop with a VC reader to ask her advice.
Marin currently serves as music director of the Baltimore Symphony, as well as chief conductor of the Vienna Radio Symphony and the Ravinia Festival.
"Dear Ms. Alsop, I am a 16-year-old female musician and I live in England. I am very passionate about music and piano and would like to pursue studies in conducting at a college level. My parents are not so encouraging, suggesting it might be a safer choice for me to consider law or economics. Would you have any advice for when these conversations come up with my family?"
Hi Elisabeth,
I know how difficult these discussions can be and encourage you to remember that your parents are acting out of love for you and a desire to protect you. That said, I don't think these pursuits have to be mutually exclusive. If you choose a university that has excellent undergraduate opportunities to conduct — I am thinking of my time at Yale — you could start gaining conducting and ensemble building experience while receiving an excellent, well-rounded education.
I am a great believer in a broad, deep education in order to be the best musician you can possibly be.
My advice is to explore your options and apply to several colleges that offer strong musical and conducting opportunities along with a broad menu of liberal arts.
You can always then focus more on conducting for your graduate work. Good luck!
- Marin Alsop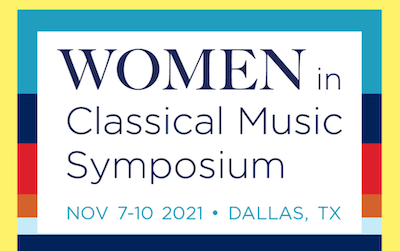 Presented by the Dallas Symphony Orchestra from November 7-10, the Women in Classical Music Symposium will be held in-person in Dallas, and will feature further talks and panel discussions on topics relevant to women in the classical music industry | This year's focus will be on "The Future is Female – Inspiring Women in Top Leadership Positions," and will also include a series of networking events, performances and opportunities for peer engagement | This year's featured guest will be Grammy Award-winning soprano Renée Fleming, who will receive the Symposium's Award of Excellence | To learn more and to register, visit: www.womeninclassicalmusic.com