INTERNATIONAL DAY OF THE GIRL | Zenetta Drew on Finding Your Own Voice as A Leader
The Violin Channel recently caught up with Zenetta Drew, Executive Director of the Dallas Black Dance Theatre, to get her expert advice on building a respected voice in the industry
To help celebrate today's United Nations "International Day of the Girl," The Violin Channel in collaboration with our good friends at the Dallas Symphony Orchestra, is hosting an all-day special online festival dedicated to gender equality and inspiring the next generation of women in classical music.
Ms. Drew has served on more than 40 arts organization boards/advisory boards/committees that include Americans for the Arts and National Endowment for the Arts, Board Treasurer for the Cultural Data Project, and held a position of Adjunct Professor in SMU's M.A./M.B.A. Arts Management Program where she taught Strategic Planning in the Arts.
Ms. Drew is a graduate of The National Arts Strategies-Chief Executive Program and is currently Vice-Chair of the Dallas Arts District, a Board member with the Dallas Symphony Orchestra, and is a member of the Advisory Board of SMU DataArts.
"I joined Dallas Black Dance Theatre (DBDT) in 1987 and have seen the company develop from an annual operating budget of $175,000 to over $4.9 million. The company's yearly services have grown from 30 to over 600 with national and international venues, and audience growth has increased from 20,000 to 150,000 annually. To date, the company has performed in 31 states, 15 countries, five continents, and at two Cultural Olympiads.
Prior to joining DBDT, my professional background included 11 years of accounting and management experience at ARCO Oil & Gas Company where I became the first African American female supervisor in Accounting in the history of the corporation with 60,000 employees.
Despite extensive management training, outstanding accomplishments, numerous promotions, academic prowess, and career success, I have found that many women are fearful of being thrust into a leadership position. Often women struggle with self-doubt, performance insecurity, and imposter syndrome as they transition into leadership roles because of the way the male power dynamic in our society is reinforced by gender conditioning.
Women who aspire to leadership positions have to navigate both their own discomfort and many times, the discomfort of others in the organization regarding their perceptions and misperceptions of unconventional leadership.
To be successful, women in leadership roles must develop their own potential by first realizing that being in charge is very different from being a contributor on the team and the psychological and emotional shift can be daunting. Here are the learnings that I have used to empower myself and find my own voice and leadership style.
Recognize that nothing is "more personal" than leadership. Your ability to find purpose in inspiring people through your vision, influence, personality, and communications skills must be authentic.
Develop a continuous process of self-awareness and recognize that new skills are needed to achieve results through others. To do this, one must develop proficiency in organizational awareness, contextual awareness, situational awareness, and emotional awareness to make and sustain transformative change as a leader.
Learn to be comfortable with a solo journey. Recognize upfront that "someone has to be first." Before you can lead others, you must shape a personal vision to lead yourself, and in many cases, exclusion and isolation come with the job.
Accept the fact that women and persons of color are held to a higher standard than men (whether right or wrong); so, don't waste time playing the victim. "Emotional sparring" gets you nowhere, but "intellectual sparring" lets you win with integrity.
Know yourself and recognize that perfection is your number ONE enemy. Being hypercritical of yourself and others makes you less productive. Prioritize what matters and allow room for mistakes by yourself and others.
Don't stand in the way of your own success. Be willing to take risks and encourage risk-taking in others. Even though there are rewards for not making mistakes, focus on the rewards that come from failure. Embrace LEARNING from failure and disruption because they create an opportunity for change. Stay open-minded to even the craziest ideas and create an environment where everyone's thoughts are valued. INNOVATION usually comes from the margins in the organization, not from the core.
Don't put people in a BOX! Leadership is not about who is at the head of the line or the top of the organization. Be willing to learn from someone who isn't an expert in a specific area of expertise. Remember every member of your team has "something to teach and something to learn."
Avoid blind spots and getting stuck in the bubble of your own thinking. To do this, you must be willing to allow challenges, invite opposing ideas, encourage others to speak up and to speak freely, and embrace your own personal discomfort.
Don't make assumptions about the fragility of others. As women, we tend to be sensitive and overly concerned about the emotional capacity of others to engage in hard conversations. This tendency results in keeping us from sharing needed advice that is truly helpful for job performance and career advancement.
Learn to OWN Power! Many women become uncomfortable with the authority and power that comes with leadership. Power is neither positive nor negative until it is used. To be effective in the use of power, one must first accept the responsibility it brings to "manage toward the good and not the problem."
Learn to GIVE Power to others and don't take it back! Be willing to relinquish control, see excellence in other methods, and exhibit confidence in the expected results of others. Recognize that your handling of power can make or break you as a leader and to take power away after you have given it, forces people back into either a literal or perceived box, creating a lack of commitment to future assignments and diminishing your power.
Share Power UP, DOWN, and ACROSS the organization! Don't get wrapped up in your own ego and self-image because it impedes both listening and learning. Strategically seek and share intellectual capital and power with everyone at all levels of the organization including your board, peers, and team members.
Finally, many women either second-guess the management skills and training they possess or feel they are not armed with enough of the skills and knowledge required to be successful in leadership roles.
To simplify the complex, women who are intimidated by the concepts of management need only to imagine that the skills and tactics one would use to inspire and coalesce the values, ethics, respect, and performance of a group of five-year-olds are the same basic skills required to build a high performing organization, a team of thought-partners, and innovative achievers."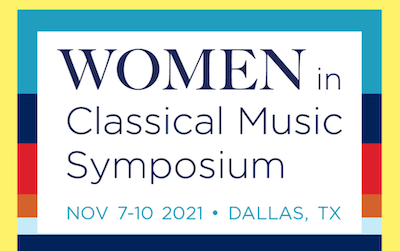 Presented by the Dallas Symphony Orchestra from November 7-10, the Women in Classical Music Symposium will be held in-person in Dallas, and will feature further talks and panel discussions on topics relevant to women in the classical music industry | This year's focus will be on "The Future is Female – Inspiring Women in Top Leadership Positions," and will also include a series of networking events, performances and opportunities for peer engagement | This year's featured guest will be Grammy Award-winning soprano Renée Fleming, who will receive the Symposium's Award of Excellence | To learn more and to register, visit: www.womeninclassicalmusic.com