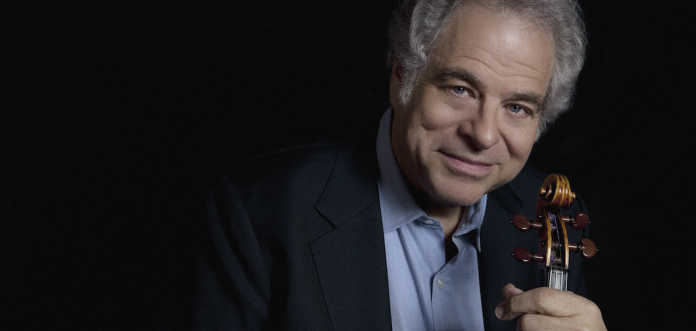 The Violin Channel recently caught up with Israeli-American violin virtuoso Itzhak Perlman, at the Juilliard School, in New York City – as he was busily preparing for his upcoming, December 3rd Lincoln Center recital.
We sat the 69 year old Maestro down to discuss his art of recital programming, his personal support to end polio and legalise the rights of same-sex couples – and the future for the violinist who, by anyone's standards, appears to have already achieved it all.
Thank you for joining us here on The Violin Channel, Mr. Perlman. 
We are very excited to be attending your upcoming Lincoln Center, Avery Fisher Hall recital on December 3rd – your first in New York City in more than 7 years.
"Thanks Violin Channel. Nice to be here.

Of course, I'm looking forward to my upcoming recital here in New York City.

I've put together a wonderful programme of works that not only do I love to play but I also personally love to hear.

I'm starting with a little Vivaldi 'Sonatina' - a work that I have been playing since I first started giving recitals, which is a little bit of deja vu for me.

And then the beautiful 'Fantasy pieces' by Schumann, which were originally written for clarinet and mostly played on cello. I love these pieces and I think they work well for the violin.

We will then play the Beethoven C Minor Violin Sonata full of drama and intensity.  After intermission we will play the Violin Sonata by Ravel inspired by jazz."
There has been a lot written recently about the lost art of recital programming. How do you make your programming decisions, Mr. Perlman?
"There are two factors that influence me regarding the art of programming: 1. Variety. 2. Play what you love as opposed to playing what you feel you are supposed to play.

If I had to dissect my programming recipe, I always start with something early, and then get into a nice meat-and-potato type piece - like a sonata by Mozart, Beethoven or Brahms.

In the second half, I like to do something a little more recent – whether it is as recent as Ravel, or even more current.

And then I finish things off with some nice little desserts. Encores pieces which were written at the turn of the 20th century -- Kreisler, Heifetz, etc.

I have always done it this way – and I think it works."
And I believe you are allowing your fans on your Facebook page to help choose your encore desserts this time around?
"Yes. We thought it would be a fun idea for this recital to involve the fans and ask them what bonbons they'd like to hear.

Kreisler, Wieniawski, Sarasate, Heifetz perhaps?

Sometimes for fun, on stage I also spring encore works on my wonderful pianist, Rohan De Silva that we've never rehearsed. He usually just looks at me like 'Errrrrghhhh!' but then we just do it!"
You have been giving recital and solo performances at New York's Avery Fisher Hall for more than 50 years. How has the experience changed in that time?
"I would say nothing has really changed … except for the audience – I think they are getting older. But seeing younger audiences always inspires me.

I would like to think my preparation and processes for delivering a recital have not altered that much during the years. I guess organized practicing is key. "
One of things we have always admired about you, Mr. Perlman, beyond your violin playing of course, is your willingness to publicly lend your celebrity to further social change. You have recently been working as a voice of the Rotary International 'Stop Polio Now' campaign, you have been a strong, visible public advocate for the legalisation of gay marriage here in the United States - and you have spoken out to the media recently, to raise public awareness about your mistreatment, as a person living with a disability, at a Toronto Airport ...
"I'm not a politician, and what I believe politically is very much my own opinion, but as an artist I have always felt if there is something that is very important to say publicly, then I do.

Obviously the fact that I had polio as a child makes it a natural thing for me to lend myself to do anything I can do to help end the disease.

One of my daughters is gay, so this is a very personal experience. I feel very strongly about the right for same sex couples to marry here in the United States and elsewhere.

And for me, being disabled, it is very important to make sure people are aware of our needs for access - and our fundamental need never to feel isolated.

These are very important, close issues for me."
Next year, Mr Perlman you will celebrate your 70th birthday. Are there one or two moments in your illustrious career you feel stand above the rest?
"Please don't remind me, VC. [laughs]

Well I suppose there are some in the career that I am most proud of …

Performing for the inauguration of President Obama in 2009 with Yo-Yo Ma, Gabriela Montero and Anthony McGill – that was pretty amazing. I loved that.

Performing with the Israel Philharmonic for the very first time - that was just such a personal thrill.

And, I suppose winning the Leventritt Competition in 1964 – as that for me was the moment which started the whole thing."
You have obviously amassed an enormous number of achievements during your performance career. What is still on Mr Itzhak Perlman's musical to-do list?
"I think the important thing for me is to continue to be fascinated with music, and to continue to be excited about performing.

If I go on stage and I'm interested and excited about what I'm going to play – for me, the goal has been achieved.

I've always told my students: 'It's not so much what you do the first time you play a piece, or even the second time – it's what you do on the third, and the fourth and the fifth that truly matters."
Excellent advice. And finally Mr. Perlman, what's still on your personal bucket list?
"Skydiving [laughs].

I would like to skydive whilst playing a Paganini Caprice …. or whilst playing 'Air on the G String' …. Get it? [smirks] Ok. That's bad!" [smiles].

Itzhak Perlman (Violin) &  Rohan De Silva (Piano) |  Avery Fischer Hall, Lincoln Center | December 3rd, 7:30pm | Programme: Vivaldi: Sonata in A Major for Violin and Continuo, Schumann: Fantasiestücke, Op. 73, Beethoven: Sonata No. 7 in C Minor, Op. 30, Ravel: Sonata No. 2 in G Major - and additional works to be announced from the stage