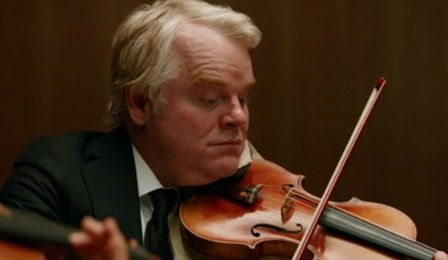 Academy Award-winning actor, and star of the 2012 American drama film 'A Late Quartet', Philip Seymour Hoffman has died from a suspected heroin overdose - aged 46.
[video_lightbox_youtube video_id="ENY4dNhoUpk" width="590" height="385" auto_thumb="1" ]A Late Quartet | Trailer | Philip Seymour Hoffman | 2012
The New York Police Department has confirmed Hoffman's body was found unresponsive in the bathroom of his New York City apartment at 11.15am on Sunday.
It is well reported the father of three had battled a long running struggle with drugs and alcohol - and as recently as June 2013 had checked into the East Coast Detox and Rehabilitation facility.
Philip Seymour Hoffman was awarded an Academy Award for 'Best Actor' for the 2005 biographical film 'Capote' - and had received three Tony Award nominations for his work in the theater.
He portrayed 2nd violinist Robert Gelbart in the 2012 Seth Grossman and Yaron Zilberman film 'A Late Quartet'.
"We are devastated by the loss of our beloved Phil and appreciate the outpouring of love and support we have received from everyone," Hoffman's family have said in a statement issued through his publicist on Sunday afternoon.
Our condolences are with Mr Hoffman's family, friends and colleagues.