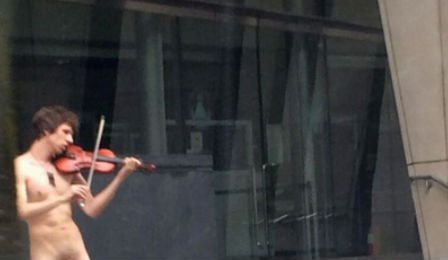 A federal judge in Portland, Oregon has today dismissed a nude protestor's claim that police violated his constitutional rights by arresting him for playing the violin naked on the street.
Matthew Mglej, 26 was seeking US $1.1 Million in damages from the Portland Police and county - after being arrested and detained for 'indecent exposure' outside the Mark O. Hatfield Courthouse, in Portland on May 24th, 2014.
The case was dismissed with the Judge summarising that nudity does not advance a specific message, so is therefore in no way protected by either the First Amendment or the State of Constitution.
PREVIOUS