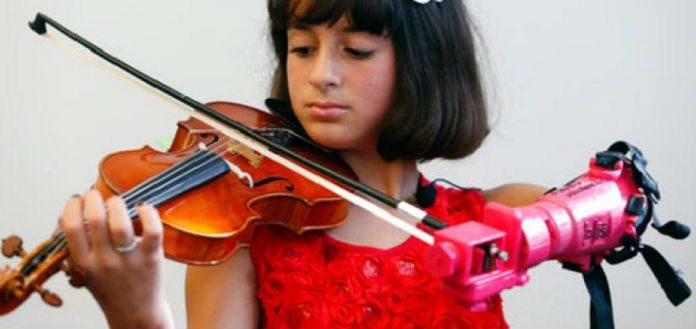 A team of final-year engineering students at the George Mason University, in the United States, have today unveiled a new 3D-printed 'arm' - now used to successfully allow a school girl born with no left hand or lower forearm to play the violin.
The team worked closely for 12 months with 10 year old Isabella Nicola Cabrera and her violin teacher, as part of their senior capstone project, to create a prosthetic attachment that was not only comfortable but which provided the necessary range of motion.
10 YEAR OLD GIRL | 3-D PRINTED ARM | GEORGE MASON UNIVERSITY STUDENTS | ISABELLA NICOLA CABRERA 
"I am very grateful … without these people, I don't think I'd be able to play the violin … I don't think I'd be able to play any instrument," Isabella has said.
The team also surprised the elementary school student with an additional attachment that will, with time, allow her to learn to ride a bicycle.