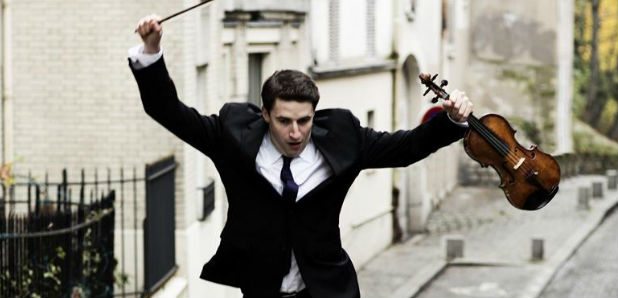 The Violin Channel recently caught up with American VC 'Artist' Noah Bendix-Balgley – 1st Concertmaster of the renowned Berlin Philharmonic.
In a VC-exclusive blog, Noah talks us through the upcoming world-premiere of his own, originally-composed Klezmer Violin Concerto, entitled 'Fidl-Fantazye' - to be performed on June 17th with Maestro Manfred Honeck and the Pittsburgh Symphony Orchestra.
"The idea of a klezmer violin concerto was one I had for a while, since I was looking for a virtuoso piece in the Klezmer style to play with orchestra. My original thought was to commission the work from another composer, but I was encouraged by my father and by Maestro Manfred Honeck to write the work myself. I decided to write a virtuosic violin fantasy accompanied by full orchestra. I am extremely grateful that the wonderful composer Samuel Adler agreed to orchestrate the piece for me, realizing a full version of the violin and piano score that I composed.
I grew up around klezmer music and it had a significant influence on my musical upbringing.  My father, Erik Bendix, is a dance teacher who specializes in Eastern European folk dancing. He is an expert on Yiddish dance, so as a child I often listened to recordings of klezmer music or heard live bands play at workshops and festivals where my father taught. I began picking up Klezmer tunes shortly after I had started playing the violin. To this day, playing klezmer music is a wonderful counterweight to my classical playing, since it allows the performer to improvise and embellish on the spot. Developing this freedom helps me play with greater flexibility and imagination within the stricter structures of classical repertoire. Klezmer music is vividly emotional, ranging from deeply mourning improvisations to the irresistible drive of its fast dance music.
My first question when composing the klezmer concerto was whether to use existing traditional klezmer melodies or to compose my own. I decided to compose my own tunes in the style of traditional ones I have learned over the years.
The Fidl-Fantazye is constructed in three movements that are played without pause. Each movement is a medley of different dances. After a short orchestral introduction, the violin enters alone, playing a simple Khosidl tune. A Khosidl is a slow and heavy line dance in the old Hassidic style. This is followed by a Doina, a Romanian-style improvisation over of a held harmony, the first of three Doina sections in the piece that serve as transitions. The melody of the next section uses my musical translation of the name Samuel: E-flat (eS in German), A, E-natural (Mi in solfege), C (Ut in solfege), E, A (La in solfege). My middle name is Samuel and I was named after my great-grandfather, Samuel Leventhal, who was a violinist. Like me, he went to Germany to study violin, and following his studies joined the Pittsburgh Symphony. He was later concertmaster of the Hartford Symphony. Because of my connection with him as well as the happy coincidence that Samuel Adler is the orchestrator of this work, the musical version of the name felt like a nice dual homage. This motive appears throughout the work in different forms.
The second movement opens with another Doina that features a duet with solo viola. This leads to a slow Nigun or Lid, a wordless song which then becomes a Hora, a slow dance in three. Here I incorporate small quotes from Mahler's 5th Symphony, the work in the second half of the concert on June 17th. Gustav Mahler incorporated klezmer tunes and elements into a number of his works (most famously in the 3rd movement of the 1st symphony). Here my quotations of his melodies came from the question: what if the classical melodies in Mahler's 5th symphony had been inspired by klezmer tunes? What would those tunes have sounded like? So in the last movement of the Fantazye, I incorporated some Mahler into a version of Hora, and wove more Mahler into my version of Freylekhs.
The third movement is an extended medley of fast tunes, alternating between full orchestra and smaller ensembles within the orchestra. Throughout I wanted the solo violin to trade off tunes with individual members of the orchestra.  At the end, the full orchestra joins in, with a wild race to the finish.
-Noah"
VC 'ARTIST' NOAH BENDIX-BALGLEY | KLEZMER VIOLIN CONCERTO