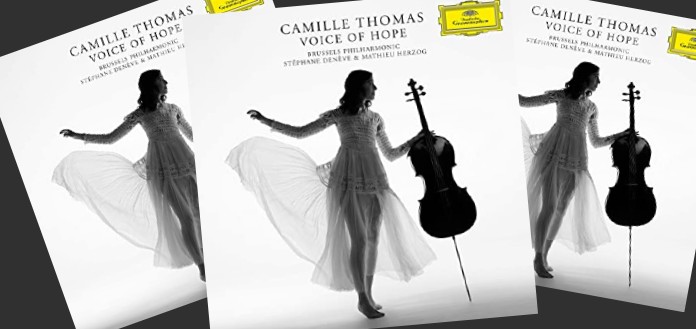 Deutsche Grammophon has announced the release of French cellist Camille Thomas' New CD: 'Voice of Hope'.
Recorded with conductors Mathieu Herzog and Stéphane Denève and the Brussels Philharmonic Orchestra, the disc features Fazil Say's Cello Concerto 'Never Give Up', Ravel's 'Deux mélodies hébraïques: Kaddisch', Bruch's 'Kol Nidrei', Dvořák's 'Songs My Mother Taught Me', John Williams' 'Schindler's List' and Massenet's 'Pourquoi me réveiller'.
''I've always been fascinated by the raw, physical emotion that a voice can convey and with each note I produce on my cello, I have always tried to reproduce a human voice - one that sings, talks, murmurs, shouts and loves ..." Camille has this week told The Violin Channel.
"So for me it was an obvious choice to accompany Fazil Say's Cello Concerto 'Never Give Up' with songs where the strength of the music has the power to replace words ...'' she has said.
''Music should always carry the powerful messages of peace, love and hope and that is why I have dedicate this album to UNICEF ... my dearest wish is that it can bring hope to the future and lives of children."