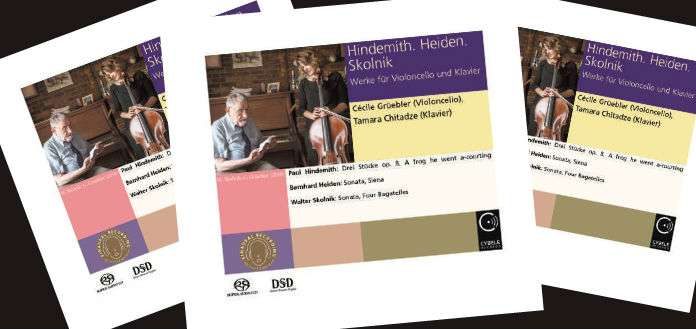 Cybele Records has announced the release of Swiss cellist Cécile Grüebler's new CD: Hindemith, Heiden and Skolnik Works For Cello and Piano.
Recorded with pianist Tamara Chitadze, the disc features Paul Hindemith's Drei Stücke Op. 8, American-German composer Bernhard Heiden's (1910 - 2000) Siena Cello Sonata and American composer Walter Skolnik's (b. 1934) Four Bagatelles Sonata.
"This CD is based on a very personal and unique story ... everything began in New York in 2017, when the composer Walter Skolnik and I met by chance on the street ..." Cécile has told The Violin Channel.
"I felt deeply inspired by the music and stories of the then 84-year-old composer ... who, through his most important teacher Bernhard Heiden follows the traditions of his teacher ... Paul Hindemith ..." she has said.
"By the time I returned back home to Switzerland from that fateful trip, I had a fully-formed idea for this project ... I hope people can feel the enthusiasm ... and be equally surprised by the truly touching music."