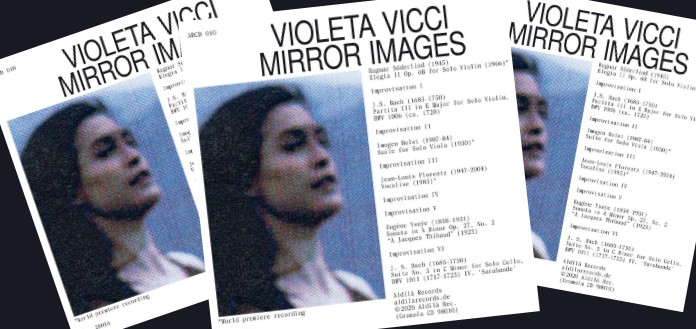 Aldila Records announced the release of violinist Violeta Vicci's new album entitled "Mirror Images."
"'Mirror Images' is truly quite a personal reflection of my life, of who I am as a person and as an artist," Vicci told The Violin Channel. "I also wanted to connect composers across space and time to tell a story. The repertoire is an eclectic and unusual collection of pieces connected by one golden thread and bridged by live improvisations.
"I wanted the freedom of expression to create in the moment and to use different instruments, including my voice, to portray the musical message. Everything fits together like a puzzle. It all started with Bach, with my love for his music, and the connection to Ysaÿe and his six works for solo violin. Then quite by chance, I fell upon the solo viola suite by Imogen Holst and decided to record it for the first time to bring this gem of a piece to light. It is very common to have the music of female composers neglected and forgotten because they never got the recognition they deserved in their lifetime. I hope we find ourselves on the right track nowadays to fix that imbalance.
"The other two world-premiere recordings are 'Elegia' and 'Vocalise,' and I have my mentor, Christoph Schlüren, to thank for this find. He introduced me to these wonderful and unusual pieces, and we worked together on the whole disc, taking an in-depth exploration of the essence of music. That is also when I decided to sing the 'Vocalise,' rather than perform it on the violin. It is such a raw and guttural cantilena, I felt my voice was the most direct way to connect with the music and the listener. 'Mirror Images' has in many ways been a journey of self-discovery, of tradition and innovation without bending to existing stereotypes.
"I hope the listeners can immerse themselves in the experience of the album as a whole and feel like they've been taken on a journey. This is the purpose of music, after all, to elevate one's existence to a higher plane, to let one's mind travel through time, and find comfort in the realm of one's imagination.
"I want to highlight the fragility of one moment with the means of the six improvisations on the disc, and appeal to the listener's creativity, to their imagination and soul. I want the listener to appreciate how I have tried to stay true to the composer's intention and bared my soul in the process."
VIOLETA VICCI | MIRROR IMAGES | 2021