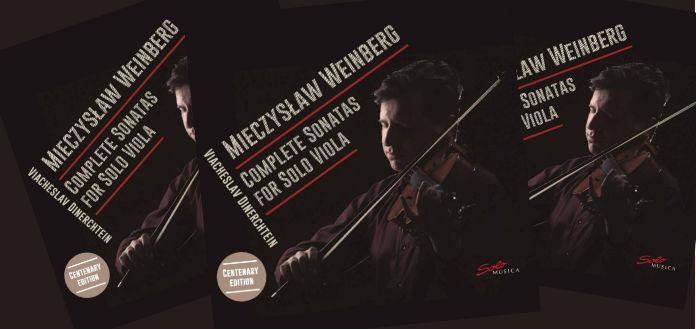 Solo Musica Records has announced the release of Belarusian-born violist Viacheslav Dinerchtein's new album: 'Mieczysaw Weinberg: Complete Sonatas for Solo Viola'.
The disc features Polish-born Soviet composer Mieczysaw Weinberg's (1919-1996) Solo Viola Sonatas No.1 Op.107, No.2 Op.123, No.3 Op.135 and No.4 Op.136.
''What first brought me to this project was curiosity and the thrill of the unknown, as I learned that listening to Weinberg's First Viola Sonata prompted Shostakovich to write his own viola sonata ... " Viacheslav has told The Violin Channel.
"While getting acquainted with the scores, still very much hesitant whether or not to commit myself to this massive project, the music itself - its honesty, its humanity - pulled me into the zone of no return long before I had a chance to consciously make up my mind ... " the Doctor of Musical Arts graduate of Northwestern University has said.
''Most people are unfamiliar with these sonatas ... I invite you, dear listener, I encourage you, I dare you to embrace this opportunity, unique and fragile, to open your ears and your heart to this new exotic world."