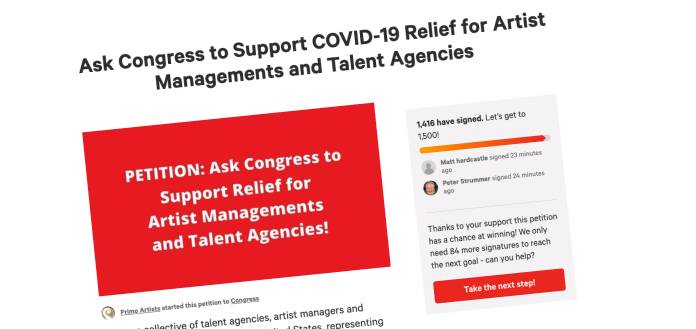 Primo Artists and Park Avenue Artists in New York have today launched an online petition to advocate Congressional leaders for designated financial support relief – on behalf of a coalition of over 100+ U.S.-based artist management and booking agencies.
The agencies are calling for legislative change that addresses an extended relief plan for the U.S. performing arts sector.
The petition argues that as for-profit businesses, agencies are unable to receive arts funds, including access to the $75 million National Endowment for the Arts – nor do they have the support of donors, grants or endowments.
The petition has gained traction quickly in the performing arts community, with over 2,000 signatures in its first 24 hours.
"Due to venues being closed and concerts being cancelled possibly until 2021 from COVID-19, our sector is facing a near complete elimination of income and a fragile situation …" Primo Artists Founder Charlotte Lee has today said.
"We derive virtually 100% of our revenue on commissions and fees from our artists' and shows' performance fees or ticket sales ... Our ability to return to work is contingent upon the development of a vaccine, as it is the only way venues can once again fill to capacity ..." she has said.
"If venues reopen before September 2021, any performances would be presented only in reduced capacities ... In this scenario, if artists receive compensation at all, it would be a fraction of their standard performance fees, and our commission or ticket revenue would not be enough to sustain us ... Without full-capacity live performances until September 2021, we face an anticipated loss of 15 months of income and are in danger of ceasing operations," she has told The Violin Channel.
Organizations such as Association of Performing Arts Professionals, Chamber Music America, Dance/USA, International Artist Managers' Association, League of American Orchestras, Theatre Communications Group and Western Arts Alliance have all committed their support to the petition.
If you would like to support the cause, please sign the change.org petition now at: https://bit.ly/2MxHbTD