Prizes Awarded at Poland's 2018 Telemann International Violin Competition
17-year-old Inés Issel Burzyńska has been awarded the Grand Prize at the 2018 Georg Philipp Telemann International Violin Competition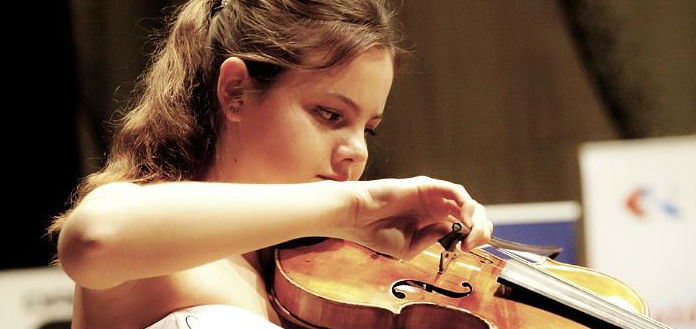 17-year-old Inés Issel Burzyńska from Poland/Spain has been awarded the Grand Prize at the 2018 Georg Philipp Telemann International Violin Competition, in Poznan, Poland.
A student of Zakhar Bron at the Queen Sofía College of Music in Madrid, Inés is a former 1st prize winner at the Lipinski and Wieniawski International Competition for Young Violinists.
He was also awarded the special jury prize for the 'best performance of a George Philipp Telemann Fantasy'.
Inés will receive 7,500 zł (US $2200)
Joint 2nd prizes were awarded to 15-year-old Wiktor Dziedzic from Poland, 16-year-old Lorenz Karls from Austria and 17-year-old Oleh Yuzkiv from Poland.
Joint 3rd prizes were awarded to 17-year-old Lina Jukneviciute from Lithuania, 11-year-old Oleksii Tyshchenko from Russia and 16-year-old Wiktoria Bialostocka from Poland.
4th prize was awarded to 12-year-old Leonard Toschev from Germany.
The 2018 jury comprised: Michał Grabarczyk (Chair), Bartosz Bryła, Antoni Cofalik, Jurgis Dvarionas, Karina Gidaszewska, Sławomir Jarmołowicz, Tatiana Liberova, František Novotný, Eszter Perényi and Tomasz Tomaszewski.