San Antonio Symphony Musicians Reject Management's Contract Proposal
The musicians have voted down a "last, best, and final offer" that would result in a reduction of the orchestra's size from 72 full-time musicians to 42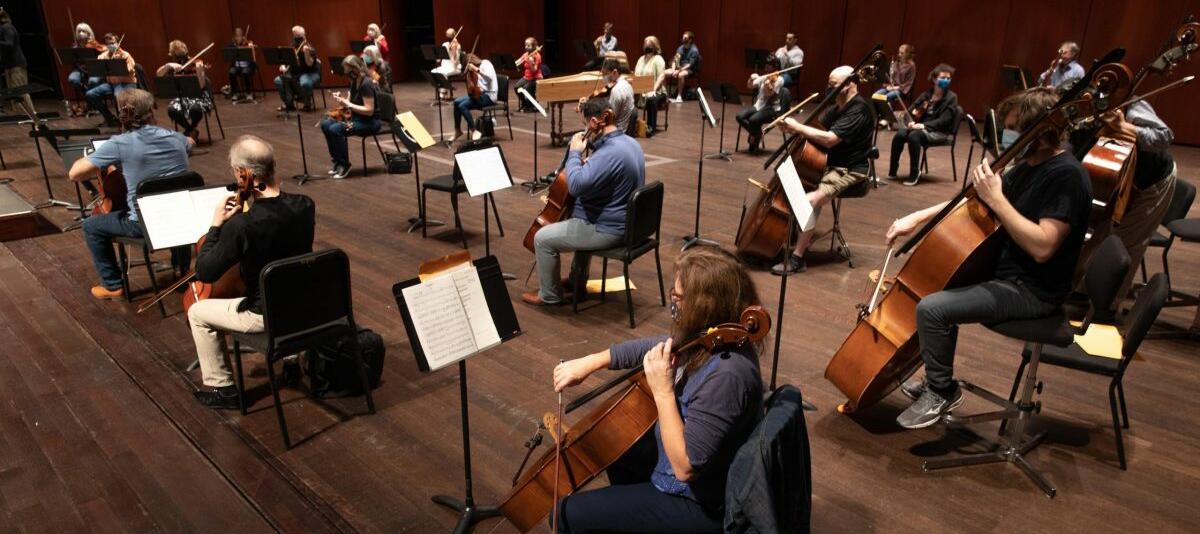 San Antonio Symphony (Photo credit: Scott Ball/San Antonio Report)
San Antonio Symphony's (SAS) musicians were unanimous in their rejection of management's most recent cost-cutting proposal. 
Currently, there are two resolutions according to Mary Ellen Goree, SAS Principal Second Violin and Negotiating Committee Chair: "We either work under the terms of the existing CBA [collective bargaining agreement] or we get back to the table and hash out an agreement that both sides can live with," she stated. 
SAS Executive Director Corey Cowart explained that the rejected contract would have changed the orchestra in key ways: "The full orchestra in the proposal would be 68 musicians," he said. "Forty-two would be full-time musicians and the remaining twenty-six would be what's called 'per service,' part time as needed, with a guaranteed number of performances and pay."
"This offer changes the structure, but from what patrons and audience members would see on stage, it would still be a full symphony orchestra," Cowart said.
The Musicians of SAS (MOSAS) responded to the contract's terms in a letter they posted on their Facebook page which reads:
"The claim that the board negotiating committee proposals allow the Symphony to perform the great full orchestral repertoire our audiences have come to expect is misleading. Under the most recent board proposal, whatever orchestra is put on stage will not be the San Antonio Symphony our audiences have been coming to see. It will be an amputated orchestra plus whatever part time musicians will agree to play after many of our fine musicians have left town.
According to management's own proposal, the per service musicians would receive no health insurance, no seniority pay, no paid sick leave or parental leave, and no Electronic Media Guarantee. Calling such a contract a 'Full Contract' is dishonest and intentionally misleading."
"It's the destruction of an orchestra," stated Sebastian Lang-Lessing, Music Director Emeritus who led the SAS for 10 years. "You're not becoming sustainable by cutting something to irrelevance," he continued. "The whole concept is artistically not viable."
Kathleen Weir Vale, Chair of the Symphony Society of San Antonio confirmed the contract proposal, stating that the board was unanimous in its belief that "the Symphony live within its means" — referring to the SAS's previous and ongoing financial struggles.
In 2018, SAS announced a cancellation of the remainder of their 2017-18 season due to a $2.5 million budget shortfall; and in 2020, the rest of their 2019-20 season was discontinued due to the pandemic. 
Further, SAS musicians last month faced a proposal stating a 50% reduction in base salary and health care benefits. "We basically cannot agree to a budget that we're going to be spending more than we can bring in," Cowart told the Texas Public Radio as a reason for the reductions. He stated that while SAS's finances are stable for now, the future of SAS is forecasted as uncertain. 
The musicians have been performing live since February of last year under renegotiated contract terms which incorporated a drastic pay cut. The current circumstance arose from management asking to renegotiate the 2021-22 season.
"Please note that the musicians voluntarily accepted a cut of just over 80% of the 2020-2021 season," MASOS stated in their response. "Not one member of senior management took a pay cut during the same time period."
"The only reason the San Antonio Symphony still exists today is because time and time again the musicians union has stepped into the breach," they added.
"For decades our management tried to impose a part-time orchestra structure on the San Antonio Symphony and for decades the musicians have stood against these attempts to deprive a great city of the great orchestra."
While negotiations are still ongoing, SAS will be opening this year's season on October 29, 2021.