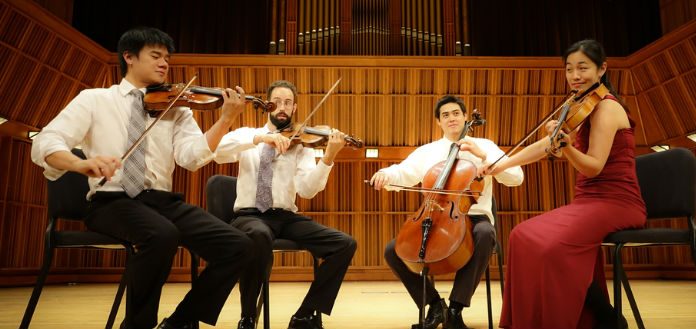 The San Francisco Conservatory of Music has today announced the San Francisco-based Telegraph String Quartet as its new Quartet-In-Residence - effective from August 2017.
Comprising violinists Eric Chin and Joseph Maile, violist Pei-Ling Lin and cellist Jeremiah Shaw, the ensemble, formed in 2013, are former 1st prize winners at the Naumburg and Fischoff International Chamber Music Competitions.
Throughout their 3 year appointment, the ensemble will perform a number of SFCM concerts per year - in addition to coaching undergraduate and pre-college chamber musicians and young soloists.
"We are indebted to our mentors … and our mission is to pass on, in our own way, that passion and knowledge of chamber music as it was passed down to us," the Quartet have said.
Previous San Francisco ensembles-in-residence have included the Alma Trio, Francesco Trio and the Griller Quartet.