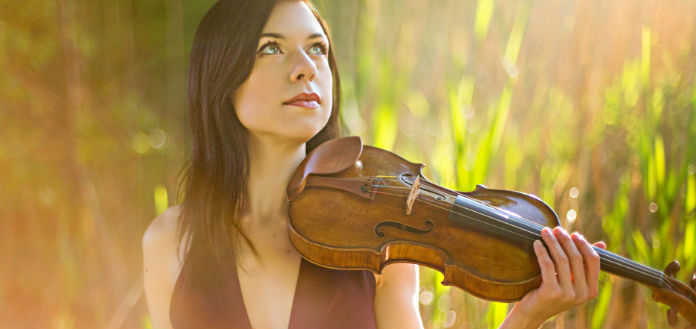 American violinist Tessa Lark has in recent years firmly established herself as one of the new generation's most outstanding young string virtuosi.
A graduate of the New England Conservatory and The Juilliard School, where she studied with Miriam Fried, Lucy Chapman, Sylvia Rosenberg and Ida Kavafian, Tessa is a former major prize winner at the Indianapolis, Michael Hill and Naumburg International Violin Competitions - and is a recent recipient of a prestigious Avery Fisher Career Grant and Leonore Annenberg and Borletti-Buitoni Trust Fellowships.
Her recent concerto engagements include performances with the Louisville Orchestra, South Carolina Philharmonic, Atlantic Classical Orchestra, Williamsburg Symphony Orchestra and the Indianapolis Chamber Orchestra - and in January of 2019 she will give the premiere performance of composer Michael Torke's 'Sky' Concerto with the Albany Symphony Orchestra. 
Tessa has collaborated with such renowned artists as Mitsuko Uchida, Itzhak Perlman, Miriam Fried, Donald Weilerstein, Pamela Frank, Kim Kashkashian, Peter Wiley and Ralph Kirshbaum
She currently performs on a 1600 Maggini – on generous loan from the Stradivari Society.
VC ARTIST TESSA LARK & RENANA GUTMAN | SCHUBERT | FANTASIE IN C MAJOR | WQXR | 2016
VC ARTIST TESSA LARK | TELEMANN | FANTASIA NO. 1 | WQXR | 2016
https://www.youtube.com/watch?v=qynpdNnSsiQ
VC ARTIST TESSA LARK & MICHAEL THURBER | EDDIE BARBASH | WOODEN SOLDIER | 2017
VC ARTIST TESSA LARK & AMY YANG | RAVEL | TZIGANE | 2016 AVERY FISHER CAREER GRANT 
VC ARTIST TESSA LARK & ELLEN HWANGBO | BARTOK | VIOLIN SONATA NO. 1 | 2014 INDIANAPOLIS INTERNATIONAL VIOLIN COMPETITION 
VC ARTIST TESSA LARK & ELLEN HWANGBO | DEBUSSY | BEAU SOIR | 2014 INDIANAPOLIS INTERNATIONAL VIOLIN COMPETITION
VC ARTIST TESSA LARK | BACH | GAVOTTE EN RONDEAU FROM 'PARTITA NO. 3' | 2014 INDIANAPOLIS INTERNATIONAL VIOLIN COMPETITION
VC ARTIST TESSA LARK | BACH | PARTITA NO. 3, BWV 1006 | PRELUDIO 
VC ARTIST TESSA LARK & YANNICK RAFALIMANANA | BARTOK | ROMANIAN FOLK DANCES 
VC ARTIST TESSA LARK | MENDELSSOHN | VIOLIN CONCERTO | 1ST MVT | YOICHI UDAGAWA & MELROSE SYMPHONY ORCHESTRA 
Name: Tessa Lark
Violin: 1600 Maggini on loan from the Stradivari Society
Bow: 2006 Benoit Rolland
Strings: Thomastik-Infeld PI Strings G, D, A | Jargar E
Accessories: Bella Rosin
Teachers: Miriam Fried, Lucy Chapman, Ida Kavafian, Daniel Phillips, & Sylvia Rosenberg