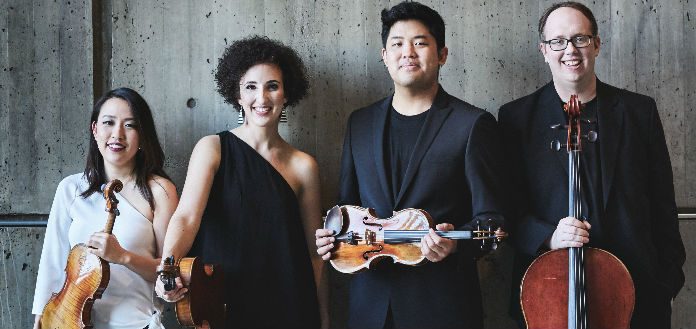 The Boston-based Verona Quartet has firmly established themselves as one of the most compelling young chamber music ensembles to emerge in recent years – praised for their 'interpretive strength', 'robust characterization' and 'commanding resonance'.
Currently serving as the New England Conservatory's professional string quartet training program's quartet-in-residence, the Verona Quartet are former top prize winners at the Wigmore Hall, Osaka, Melbourne, Fischoff and M-Prize International Chamber Music Competitions.
They previously served as graduate quartet-in-residence at Indiana University's Jacobs School of Music – and at The Juilliard School. 
The ensemble has collaborated with leading artists including Cho-Liang Lin, David Shifrin, Ani Kavafian, Ida Kavafian, Steve Tenenbom, Anne-Marie MacDermott and Renée Fleming – and count among their mentors the Juilliard Quartet, Pacifica Quartet, Cleveland Quartet, David Finckel, Paul Katz, Miriam Fried, Atar Arad, Kim Kashkashian, Alexander Kerr and Eric Kim.
The quartet, as 1st prize winners at the 2015 Concert Artists Guild International Competition, is currently under worldwide management representation by Concert Artists Guild, in New York.
VC ARTIST VERONA QUARTET | JANÁČEK STRING QUARTET NO. 2 'INTIMATE LETTERS' | 1ST MVT | 2019
VC ARTIST VERONA QUARTET | SOFIA GUBAIDULINA | 'REFLECTIONS ON THE THEME B-A-C-H' | CHELSEA MUSIC FESTIVAL | 2019
VC ARTIST VERONA QUARTET | SHOSTAKOVICH | STRING QUARTET NO. 3 | 5TH MVT | NEW ENGLAND CONSERVATORY
VC ARTIST VERONA QUARTET | SHOSTAKOVICH | STRING QUARTET NO. 3 | 1ST MVT | NEW ENGLAND CONSERVATORY
VC ARTIST VERONA QUARTET | BRAHMS | STRING QUARTET NO. 2 IN A MINOR | 3RD MVT | 2018
VC ARTIST VERONA QUARTET | RAVEL STRING QUARTET | 1ST MVT | 2018
VC ARTIST VERONA QUARTET | RAVEL STRING QUARTET | 4TH MVT | 2018
VC ARTIST VERONA QUARTET | HAYDN | QUARTET NO. 36 IN B FLAT MAJOR | 3RD MVT | 2017
Name: Jonathan Ong

Violin: Joseph Guarnerius filius Andreae (c. 1686, Cremona)
Bows: John Norwood Lee & Paul S.J. Goh
Accessories: Andrea Bang Solo Rosin | Everest shoulder rest | Musafia violin case
Teachers: Donald Weilerstein, Alexander Kerr, Paul Kantor, Lynn Blakeslee, Fredell Lack, Lynette Lim
Name: Dorothy Ro
Instrument: Nicolas François Vuillaume (c. 1846, Brussels)
Bow: Victor François Fétique
Strings: Thomastik Peter Infeld | D'Addario Kaplan
Accessories: Andrea Bang Solo Violin Rosin | Bam Hightech Slim Violin Case
Teachers: Donald Weilerstein, Paul Kantor, Alexander Kerr, Linda Cerone, David Cerone, Philippe Djokic
Name: Abigail Rojansky
Instrument: William Whedbee (c. 2007, Chicago)
Bow: D. Carvalho
Strings: D'Addario Kaplan
Accessories: Liebenzeller Gold Rosin | Bam Hightech Viola Case and Hoodie
Teachers: Martha Katz, Atar Arad, Karen Ritscher, Erika Miranda
Name: Jonathan Dormand
Instrument: Louis Nicolas Vissenaire (c.1860, Lyon)
Bow: Noel Burke
Strings: D'Addario Kaplan A and D | Jargar Dolce A | Thomastik Spirocore G and C
Accessories: Tartini Solo Rosin | White Accord Case
Teachers: Paul Katz, Ralph Kirshbaum, Laurence Lesser, Hannah Roberts, Gillian Thoday
Comments
comments