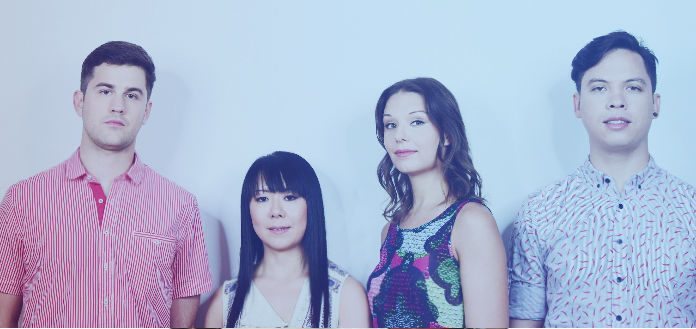 The internationally acclaimed, New York-based Attacca String Quartet have firmly been establishing themselves as one of the new generation's premier, young chamber ensembles.
Comprised of violinists Amy Schroeder and Keiko Tokunaga, violist Nathan Schram and cellist Andrew Yee, the Attacca Quartet are the recipients of distinguished prizes at the Osaka, Melbourne and Coleman International Chamber Music Competitions - and were recently described by The New York Times as 'vivacious ... exuberant, funky, and ... exactingly nuanced'.
From 2011-2013 they served as the Juilliard Graduate Resident String Quartet, and for the 2014 – 2015 season the Attacca Quartet was named the Quartet in Residence for the Metropolitan Museum of Art in New York.
VC ARTISTS ATTACCA QUARTET | BEETHOVEN | STRING QUARTET NO. 1, OP. 18 NO. 1 | 2ND MVT | 2017
VC ARTISTS ATTACCA QUARTET | HAYDN | STRING QUARTET OP. 50, NO. 6 "THE FROG" | 4TH MVT | WQXR | 2017 
VC ARTISTS ATTACCA QUARTET | JANÁČEK | STRING QUARTET NO. 2 "INTIMATE LETTERS" | 3RD MVT | 2017
VC ARTISTS ATTACCA QUARTET | JOHN ADAMS | JOHN'S BOOK OF ALLEGED DANCES | ALLIGATOR ESCALATOR | 2015
VC ARTISTS ATTACCA QUARTET | HAYDN | STRING QUARTET OP. 64, NO. 4 | 4TH MVT | 2017
VC ARTISTS ATTACCA QUARTET | MICHAEL IPPOLITO | SMOKE RINGS | 2015
VC ARTISTS ATTACCA QUARTET | CHRIS ROGERSON | STRING QUARTET NO. 2 | 2ND MVT | 2015
VC ARTISTS ATTACCA QUARTET | RICHARD WILSON | STRING QUARTET NO. 4 | 2016
Name: Amy Schroeder

Violin: 2011 Nathan Slobodkin 
Name: Keiko Tokunaga
Violin: 1900 Scarampella
Bow: Maire
Teachers: Chikashi Tanaka, Hyo Kang, David Chan
Name: Nathan Schram
Viola: Tetsuo Matsuda, Chicago 1983
Bow: German Bow and Berg Fiberglass Bow
Teachers: Alan DeVeritch, Diemut Poppen, Yuval Gotlibovich
Name: Andrew Yee
Cello: 2001 Nathan Slobodkin
Bow: Middle School Cello Bow and John Aniano Classical Bow
Accessories: Red Accord Case, William Salchow Rosin, Carbon Fiber Endpin 
Teachers: Mary Wagner, Loran D. Stephenson, Fred Sherry, Joel Krosnick