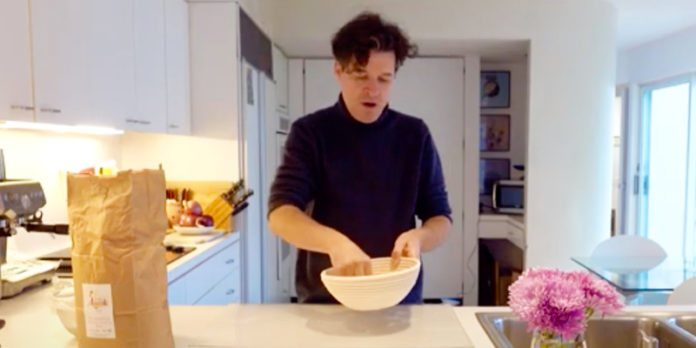 In this new VC COVID series, created by violinist Désirée Ruhstrat, we catch up with an array of international string players to put their house-bound culinary skills to the test.
In this the first episode, Lincoln Trio and Black Oak Ensemble cellist David Cunliffe walks us through his favorite quick-and-easy home baked bread recipe.
Future episodes are set to feature: violinists Miriam Fried, Ida Kavafian, Tasmin Little, Lara St John and Chee-Yun.
RECIPE
Bread Ingredients:
3 Cups of Flour (Bread flour ...King Arthur brand is great)
1 tsp salt 1/4 tsp dry active yeast
1 1/2 cups of water
DIRECTIONS:
Mix up Flour, salt & yeast in a mixing bowl.
Add 1 1/2 cups of hot water and mix to a shaggy dough. (1 minute)
Cover with Saran Wrap and let sit for 8 - 12 hours (you can do as little as 3 hours but it tastes better if you do longer)
Heat up oven to 450F with the Dutch oven inside for at least 30 - 45 mins (careful that the knob on the lid is metal not plastic..trust me on this)
Meanwhile scoop out dough onto a floured work surface and fold over the dough a number of times and then put in a proofing basket (or a bowl will do) and cover with tea towel
When oven has heated up take out dutch oven, line with parchment paper and put the dough on parchment paper, cover with lid and bake in oven for 30 mins
After 30 mins remove bread from dutch oven and bake bread directly on oven rack for a further 15/20 mins until brown and crispy
Let the bread cool on rack for at least 15 minutes before eating...that's the hardest part!
David Cunliffe has served as longtime cellist with the Grammy-nominated Lincoln Trio and the Black Oak Ensemble - performing internationally throughout South America, Europe, Asia and the United States | He currently serves on Faculty at the Music Institute of Chicago - and the New Music School of Chicago