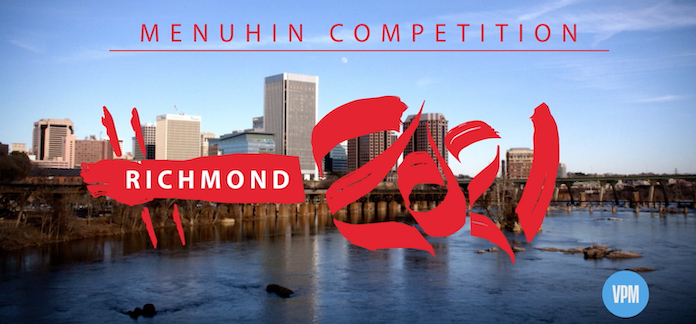 MENUHIN COMPETITION RICHMOND 2021
SUNDAY 16TH APRIL 2021
SENIOR DIVISION SEMI-FINAL
LIVE FROM RICHMOND, VIRGINIA
Eric Chen (20, Taiwan/United States) | Pianist: Dina Vainshtein
Franck | Violin Sonata in A Major, FWV. 8, Ben moderato: Recitativo-Fantasia
Mozart | Violin Concerto No. 3 in G Major, K. 216, Allegro
Mark O'Connor | Menuhin Caprice
Ravel | Tzigane
Simon Zhu (20, Germany) | Pianist Alkistis Milioni
Mozart | Violin Concerto No. 5 in A Major, K. 219, Allegro aperto
Franck | Violin Sonata in A Major, FWV. 8, Ben moderato: Recitativo-Fantasia
Ysaÿe | Caprice d'après l'étude en forme de valse de Saint-Saëns
Mark O'Connor | Menuhin Caprice
Emma Meinrenken (21, Canada) | Pianist: Su Jeon
Mozart | Violin Concerto No. 5 in A Major, K. 219, Allegro aperto
Poulenc | Violin Sonata FP. 119, Intermezzo
Mark O'Connor | Menuhin Caprice
John Corigliano | Red Violin Caprices
Hana Chang (18, Singapore/Japan/United States) | Pianist: Lorena Tecu
Mozart | Violin Concerto No. 1 in B flat Major, K. 207, Allegro moderato
Franck | Violin Sonata in A Major, FWV. 8, Ben moderato: Recitativo-Fantasia
Mark O'Connor | Menuhin Caprice
Ernst | Erlkönig
SUNDAY 16TH APRIL 2021
SENIOR DIVISION SEMI-FINAL
LIVE FROM RICHMOND, VIRGINIA
Karisa Chiu (21, United States) | Pianist: Inah Chiu
Mozart |  Violin Concerto No. 4 in D Major, K. 218 Allegro
Ravel | Violin Sonata No. 2 in G Major, Blues: Moderato
Mark O'Connor | Menuhin Caprice
Hubay | Carmen Fantasie Brilliante, Op. 3, No.3
Emily Shehi (22, United States) | Pianist: Jungeun Kim
Mozart | Violin Concerto No. 1 in B flat Major, K. 207, Allegro moderato
Mark O'Connor | Menuhin Caprice
Poulenc | Violin Sonata FP. 119, Intermezzo
Ysaÿe | Solo Sonata No. 5 in G Major
Bohdan Luts (16, Ukraine) | Pianist: Olga Sitkovetsky
Ysaÿe | Solo Sonata No. 4 in E minor
Mozart | Violin Concerto No. 5 in A Major, K. 219, Allegro aperto
Mark O'Connor | Menuhin Caprice
Ravel | Violin Sonata No. 2 in G Major, Blues: Moderato
María Dueñas (18, Spain) | Pianist: Evgeny Sinaiski
Ravel | Tzigane
Franck | Violin Sonata in A Major, FWV. 8, Ben moderato: Recitativo-Fantasia
Mozart | Violin Concerto No. 4 in D Major, K. 218, Allegro
Mark O'Connor | Menuhin Caprice
Serin Park (17, South Korea/United States) | Pianist: Hyun Ju Jang
Mark O'Connor | Menuhin Caprice
Ysaÿe | Caprice d'après l'étude en forme de valse de Saint-Saëns
Mozart | Violin Concerto No. 3 in G Major, K. 216, Allegro
Franck | Violin Sonata in A Major, FWV. 8, Ben moderato: Recitativo-Fantasia
SATURDAY 15TH APRIL 2021
JUNIOR DIVISION SEMI-FINAL
LIVE FROM RICHMOND, VIRGINIA
Seohyun Kim (12, South Korea) | Pianist: Hyunjeong Kim
Elliott Carter | 4 Lauds, No. 3: Rhapsodic Musings
Beethoven | Violin Sonata No. 4 in A minor, Op. 23 | Presto and Andante scherzoso, più allegretto
Waxman | Carmen Fantasie
Raphael Nussbaumer (15, Switzerland) | Pianist: Kateryna Tereshchenko
Beethoven | Violin Sonata No. 4 in A minor, Op. 23 | Presto and Andante scherzoso, più allegretto
Alfred Felder | Capriccioso
Ravel | Tzigane
Fiona Khuong-Huu (14, Japan/France/United States) | Pianist: Rohan De Silva
Elliott Carter | Riconoscenza per Goffredo Petrassi
Beethoven | Violin Sonata No. 5 in F Major, Op. 23 | Allegro and Adagio molto espressivo
Waxman | Carmen Fantasie
Keila Wakao (15, Japan/United States) | Pianist: Dina Vainshtein
Beethoven | Violin Sonata No. 1 in D Major, Op. 12 | Allegro con brio and Tema con variazioni: Andante con moto
Steven Mackey | Interior Design for Solo Violin, Vermont Slate
Szymanowski | Nocturne and Tarantella
Kento Hong (14, United States/Japan/Taiwan) | Pianist: Nelson Padgett
Beethoven | Violin Sonata No. 1 in D Major, Op. 12 | Allegro con brio and Tema con variazioni: Andante con moto
David Froom | Shades of Red
Sarasate | Carmen Fantasy
SATURDAY 15TH APRIL 2021
JUNIOR DIVISION SEMI-FINAL
LIVE FROM RICHMOND, VIRGINIA
Boha Moon (14, South Korea) | Pianist: Miroslav Sekera
Beethoven | Violin Sonata No. 4 in A minor, Op. 23 | Presto and Andante scherzoso, più allegretto
Jeongkyu Park | Nori
Ysaÿe | Caprice d'après l'étude en forme de valse de Saint-Saëns
Hannah Wan Ching Tam (15, China) | Pianist: Maria Jee
Beethoven | Violin Sonata No. 2 in A Major, Op. 12, Allegro vivace and Andante, più tosto allegretto
 Elliott Carter | 4 Lauds, No. 3: Rhapsodic Musings
Milstein | Paganiniana
Corina Deng (13, Canada) | Pianist: Athena Deng
Ellen Taaffe Zwilich | Fantasy for solo violin
Beethoven | Violin Sonata No. 5 in F Major, Op. 23 | Allegro and Adagio molto espressivo
Ravel | Tzigane
Edward Walton (15, Australia/United Kingdom) | Pianist: Laurence Matheson
Beethoven | Violin Sonata No. 1 in D Major, Op. 12 | Allegro con brio and Tema con variazioni: Andante con moto
Matthew Hindson | Song of Life
Waxman | Carmen Fantasie
Jinan Laurentia Woo (13, South Korea) | Pianist: Jun Cho
Shin Kim | Holo for solo violin
Beethoven | Violin Sonata No. 1 in D Major, Op. 12 | Allegro con brio and Tema con variazioni: Andante con moto
Wieniawski | Polonaise Brilliante No. 2 in A Major, Op. 21
THURSDAY 29TH APRIL 2021
SENIOR DIVISION OPENING ROUND DAY 2
LIVE FROM RICHMOND, VIRGINIA
Hannah Song (21, United States)
Paganini | Caprice No. 11
J.S. Bach | Solo Sonata No. 1 in G minor | Siciliana & Presto
John Harbison | Songs of Solitude | 2nd movement
Dayoon You (19, South Korea)
J.S. Bach | Solo Sonata No. 1 in G minor | Siciliana & Presto
Paganini | Caprice No. 17
Youngjo Lee | Honzanori
Serin Park (17, South Korea/United States)
Paganini | Caprice No. 5
J.S. Bach | Solo Sonata in C Major | Largo & Allegro assai
Joan Tower | String Force
Eric Chen (20, Taiwan/United States)
J.S. Bach | Solo Sonata in C Major | Largo & Allegro assai
Paganini | Caprice No. 9
Jessie Montgomery | Rhapsody No. 1
Simon Zhu (20, Germany)
J.S. Bach | Solo Sonata in C Major | Largo & Allegro assai
Paganini | Caprice No. 24
John Corigliano | Stomp for Scordatura Violin
Molin Han (20, China)
J.S. Bach | Solo Sonata in C Major | Largo & Allegro assai
Zhao Xi | The Soundscape That I Saw and You Heard, What I Saw
Paganini | Caprice No. 11
Hiroki Kasai (21, Japan/United Kingdom)
J.S. Bach | Solo Sonata in C Major | Largo & Allegro assai
Paganini | Caprice No. 21
Sir George Benjamin CBE | Three Miniatures for Solo Violin, A Canon for Sally Cavender
Emma Meinrenken (21, Canada)
Paganini | Caprice No. 17
Sydney Hodkinson | Twig
J.S. Bach | Solo Sonata in C Major | Largo & Allegro assai
Hana Chang (18, Singapore/Japan/United States)
J.S. Bach | Solo Sonata in C Major | Largo & Allegro assai
Paganini | Caprice No. 2
Kevin Puts | Arches, Aria and Caprice
Matthew Hakkarainen (20, United States)
Elliott Carter | 4 Lauds, No. 3: Rhapsodic Musings
J.S. Bach | Solo Sonata No. 1 in G minor | Siciliana & Presto
Paganini | Caprice No. 11
WEDNESDAY 28TH APRIL 2021
SENIOR DIVISION OPENING ROUND DAY 1
LIVE FROM RICHMOND, VIRGINIA
Claire Wells (20, United States)
Paganini | Caprice No. 15
J.S. Bach | Solo Sonata No. 2 in A minor | Andante & Allegro
Joan Tower | String Force
Karisa Chiu (21, United States)
J.S. Bach | Solo Sonata No. 2 in A minor | Andante & Allegro
Augusta Read Thomas | Incantation
Paganini | Caprice No. 24
Vikram Francesco Sedona (20, Italy)
J.S. Bach | Solo Sonata No. 1 in G minor | Siciliana & Presto
Paganini | Caprice No. 11
René Koering | Ricercar de l'aube
Joseph Hsia (20, United States)
J.S. Bach | Solo Sonata No. 2 in A minor | Andante & Allegro
Elliott Carter | 4 Lauds, No. 3: Rhapsodic Musings
Paganini | Caprice No. 17
Emily Shehi (22, United States)
J.S. Bach | Solo Sonata No. 3 in C Major | Largo & Allegro assai
Paganini | Caprice No. 11
Elliott Carter | 4 Lauds, No. 4: Remembering Roger
Zachary Brandon (22, United States)
J.S. Bach | Solo Sonata No. 2 in A minor | Andante & Allegro
Christopher Theofanidis | Discipline and Transcendence
Paganini | Caprice No. 5
Bohdan Luts (16, Ukraine)
Paganini | Caprice No. 10
J.S. Bach | Solo Sonata No. 1 in G minor | Siciliana & Presto
Skoryk | Capriccio for Violin Solo
María Dueñas (18, Spain)
J.S. Bach | Solo Sonata No. 3 in C Major | Largo & Allegro assai
Paganini | Caprice No. 5
Aleksey Igudesman | Applemania
Maya Anjali Buchanan (21, United States)
Paganini | Caprice No. 5
J.S. Bach | Solo Sonata No. 3 in C Major | Largo & Allegro assai
Reena Esmail | Darshan (Partita for Solo Violin), Charukeshi
Tianyu Liu (22, China)
J.S. Bach | Solo Sonata No. 2 in A minor | Andante & Allegro
Paganini | Caprice No. 17
Chen Yao | Air
Maria Cherkassova (21, Russia)
J.S. Bach | Solo Sonata No. 3 in C Major | Largo & Allegro assai
Paganini | Caprice No. 5
Efrem Podgaits | Partita for Solo Violin, Capriccio
TUESDAY 27TH APRIL 2021
JUNIOR DIVISION OPENING ROUND DAY 2
LIVE FROM RICHMOND, VIRGINIA
Emrik Revermann (12, Canada/Germany) | Pianist: Younggun Kim
Schubert | Sonatina No. 1 in D Major, Op. 137, D. 384
Rode | Caprice No. 9 in E Major
Telemann | Fantasia for Solo Violin, No. 9 in B minor
Brahms (Arr. Kreisler) | Hungarian Dance No. 17 in F-sharp minor
Edward Walton (15, Australia/United Kingdom) | Pianist: Laurence Matheson
Telemann | Fantasia for Solo Violin, No. 9 in B minor
Mozart | Violin Sonata in G Major, K. 301
Rode | Caprice No. 9 in E Major
Kreisler | March Miniature Viennoise
Sooeon Kim (13, South Korea) | Pianist: Hyunjung Kim
Telemann | Fantasia for Solo Violin, No. 9 in B minor
Rode | Caprice No. 9 in E Major
Mozart | Violin Sonata in E minor, K. 304
Kreisler | Caprice Viennois, Op. 2
Jinan Laurentia Woo (13, South Korea) | Pianist: Jun Cho
Telemann | Fantasia for Solo Violin, No. 10 in D Major
Rode | Caprice No. 4 in E minor
Mozart | Violin Sonata in G Major, K. 301
Manuel de Falla (Arr. Kreisler) | La vida breve: Danse espagnole No. 1
Seohyun Kim (12, South Korea) | Pianist: Hyunjeong Kim
Telemann | Fantasia for Solo Violin, No. 10 in D Major
Rode | Caprice No. 4 in E minor
Mozart | Violin Sonata in G Major, K. 301
Kreisler | Tambourin Chinois, Op. 3
Raphael Nussbaumer (15, Switzerland) | Pianist: Kateryna Tereshchenko
Rode | Caprice No. 4 in E minor
Telemann | Fantasia for Solo Violin, No. 10 in D Major
Schubert | Sonatina No. 1 in D Major, Op. 137, D. 384
Kreisler | Tambourin Chinois, Op. 3
Fiona Khuong-Huu (14, Japan/France/United States) | Pianist: Rohan De Silva
Telemann | Fantasia for Solo Violin, No. 9 in B minor
Rode | Caprice No. 6 in B minor
Mozart | Violin Sonata in G Major, K. 301
Kreisler | Recitativo and Scherzo Caprice, Op. 6
Keila Wakao (15, Japan/United States) | Pianist: Dina Vainshtein
Telemann | Fantasia for Solo Violin, No. 9 in B minor
Schubert | Sonatina No. 1 in D Major, Op. 137, D. 384
Rode | Caprice No. 4 in E minor
Dvořák (Arr. Kreisler) | Songs My Mother Taught Me
Natsuho Murata (13, Japan) | Pianist: Eriko Kawachi
Kreisler | Caprice Viennois, Op. 2
Rode | Caprice No. 4 in E minor
Schubert | Sonatina No. 1 in D Major, Op. 137, D. 384
Telemann | Fantasia for Solo Violin, No. 10 in D Major
Mei Kaneko (15, Japan) | Pianist: Yoshiko Matsumura
Rode | Caprice No. 6 in B minor
Telemann | Fantasia for Solo Violin, No. 10 in D Major
Mozart | Violin Sonata in G Major, K. 301
Manuel de Falla (Arr. Kreisler) | La vida breve: Danse espagnole No. 1
Kento Hong (14, United States/Japan/Taiwan) | Pianist: Nelson Padgett
Kreisler | Gypsy Caprice
Telemann | Fantasia for Solo Violin, No. 9 in B minor
Mozart | Violin Sonata in G Major, K. 301
Rode | Caprice No. 9 in E Major
JUNIOR DIVISION OPENING ROUND DAY 1
LIVE FROM RICHMOND, VIRGINIA
MONDAY 26TH APRIL 2021
Yixuan Jiang (16, China) | Pianist: Shan Jiang
Rode | Caprice No. 4 in E minor
Telemann | Fantasia for Solo Violin, No. 10 in D Major
Mozart | Violin Sonata in G Major, K. 301
Kreisler | Tambourin Chinois, Op. 3
Na Hyun Kyun (16, South Korea/United States) | Pianist: Young Sung Park
Telemann | Fantasia for Solo Violin, No. 10 in D Major
Rode | Caprice No. 6 in B minor
Mozart | Violin Sonata in E minor, K. 304
Kreisler | La Gitana
Boha Moon (14, South Korea) | Pianist: Eunjung Kang
Rode | Caprice No. 4 in E minor
Telemann | Fantasia for Solo Violin, No. 9 in B minor
Schubert | Sonatina No. 1 in D Major, Op. 137, D. 384
Kreisler | Caprice Viennois, Op. 2
Seohyeon Park (15, South Korea) | Pianist: Hyunjeong Kim
Telemann | Fantasia for Solo Violin, No. 10 in D Major,
Rode | Caprice No. 9 in E Major
Mozart | Violin Sonata in G Major, K. 301
Kreisler | Caprice Viennois, Op. 2
Hannah Wan Ching Tam (15, China) | Pianist: Maria Jee
Schubert | Sonatina No. 1 in D Major, Op. 137, D. 384

Rode | Caprice No. 4 in E minor

Telemann | Fantasia for Solo Violin, No. 10 in D Major

Kreisler | Tambourin Chinois, Op. 3
Hankyoung Chang (13, South Korea) | Pianist: Young Sung Park
Schubert | Sonatina No. 1 in D Major, Op. 137, D. 384

Dvořák (Arr. Kreisler) | Slavonic Fantasy

Rode | Caprice No. 6 in B minor 

Telemann | Fantasia for Solo Violin, No. 9 in B minor
Guido Sant'Anna (15, Brazil) | Pianist: Michiko Tashiro Licciardi
Mozart | Violin Sonata in E minor, K. 304
Telemann | Fantasia for Solo Violin, No. 10 in D Major
Rode | Caprice No. 4 in E minor
de Falla (Arr. Kreisler) | La vida breve: Danse espagnole No. 1
Dawid Kasprzak (15, Poland) | Pianist: Paulina Urbankowska
Telemann | Fantasia for Solo Violin, No. 9 in B minor
Rode | Caprice No. 4 in E minor
Mozart | Violin Sonata in E minor, K. 304
Kreisler | La Gitana
Shannon Ma (15, United States) | Pianist: Dmitry Cogan
Telemann | Fantasia for Solo Violin, No. 10 in D Major

Mozart | Violin Sonata in G Major, K. 301
Rode | Caprice No. 9 in E Major
Kreisler | March Miniature Viennoise
Corina Deng (13, Canada) | Pianist: Athena Deng
Telemann | Fantasia for Solo Violin, No. 10 in D Major

​

Rode | Caprice No. 4 in E minor from 24 Caprices for Solo Violin, Op. 22

Mozart | Violin Sonata in E minor, K. 304

Kreisler | Tambourin Chinois, Op. 3
Kayleigh Kim (16, United States) | Pianist: Pianist: Yoon Lee
Telemann | Fantasia for Solo Violin, No. 10 in D Major

Mozart | Violin Sonata in G Major, K. 301

Rode | Caprice No. 4 in E minor

Dvořák (Arr. Kreisler) | Songs My Mother Taught Me
"We look forward to thousands of viewers from around the world joining us online and in spirit to celebrate extraordinary violin performances by talented American and international musicians and guest artists," Richmond Mayor Levar M. Stoney said.
This year's jury is comprised of violinist Pamela Frank (Chair), violinist and conductor Joji Hattori (Vice-Chair), violinist and entrepreneur Aaron Dworkin, pianist Piers Lane, violinists Soyoung Yoon, VC Artists Noah Bendix-Balgley and Angelo Xiang Yu, violinist, conductor, and educator Alf Richard Kraggerud and conductor and Music Director of the Richmond Symphony, Valentina Peleggi.
As the competition's official international broadcaster, all rounds will be streamed live on The Violin Channel. You won't miss a beat.