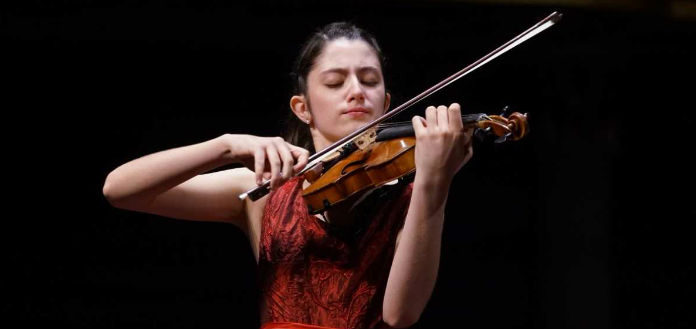 14 year old Spanish violinist María Dueñas is quickly building an international reputation as an emerging young concert artist of outstanding potential.
A student of Boris Kuschnir at the Vienna University of Music, María is a former 1st and Grand Prix winner at the Leonid Kogan and Georg Philipp Telemann International Violin Competitions – and was in September of this year awarded a 1st prize at the 2017 Zhuhai International Mozart Competition for Young Musicians, in China.
María's recent solo engagements include performances at the Verbier Festival, Mecklerburn-Vorpommern Festspiele and the Dresdner Philharmonie – and she will later this season give her orchestral debut in the Vienna Musikverein.
She currently performs on a 1774 Nicolò Gagliano violin – on generous loan from the Deutsche Stiftung Musikleben.
MARÍA DUEÑAS & PETER WITTENBERG | PAGANINI | VIOLIN CONCERTO NO. 1 | 2017 ZHUHAI INTERNATIONAL MOZART COMPETITION FOR YOUNG MUSICIANS | GROUP B | 1ST PRIZE 
MARÍA DUEÑAS | MOZART | VIOLIN CONCERTO NO. 4 | SALZBURG CHAMBER SOLOISTS | 2017 ZHUHAI INTERNATIONAL MOZART COMPETITION FOR YOUNG MUSICIANS | GROUP B | 1ST PRIZE 
MARÍA DUEÑAS & PETER WITTENBERG | SAINT-SAENS | INTRODUCTION AND RONDO CAPRICCIOSO | 2017 ZHUHAI INTERNATIONAL MOZART COMPETITION FOR YOUNG MUSICIANS | GROUP B | 1ST PRIZE 
MARÍA DUEÑAS & PETER WITTENBERG | MOZART | ADAGIO IN E MAJOR | 2017 ZHUHAI INTERNATIONAL MOZART COMPETITION FOR YOUNG MUSICIANS | GROUP B | 1ST PRIZE 
MARÍA DUEÑAS & PETER WITTENBERG | MOZART | VIOLIN SONATA NO. 21 | 1ST MVT | 2017 ZHUHAI INTERNATIONAL MOZART COMPETITION FOR YOUNG MUSICIANS | GROUP B | 1ST PRIZE 
MARÍA DUEÑAS | PAGANINI | CAPRICE NO. 16 | 2017 ZHUHAI INTERNATIONAL MOZART COMPETITION FOR YOUNG MUSICIANS | GROUP B | 1ST PRIZE 
MARÍA DUEÑAS | BACH | PARTITA NO. 2 | ALLEMANDE | 2017 ZHUHAI INTERNATIONAL MOZART COMPETITION FOR YOUNG MUSICIANS | GROUP B | 1ST PRIZE 
MARÍA DUEÑAS & PETER WITTENBERG | LUTOSLAWSKI | SUBITO | 2017 ZHUHAI INTERNATIONAL MOZART COMPETITION FOR YOUNG MUSICIANS | GROUP B | 1ST PRIZE 
Name: María Dueñas
Violin: 1774 Nicolò Gagliano – on loan from the 'Deutsche Stiftung Musikleben'
Teacher: Boris Kuschnir
Comments
comments