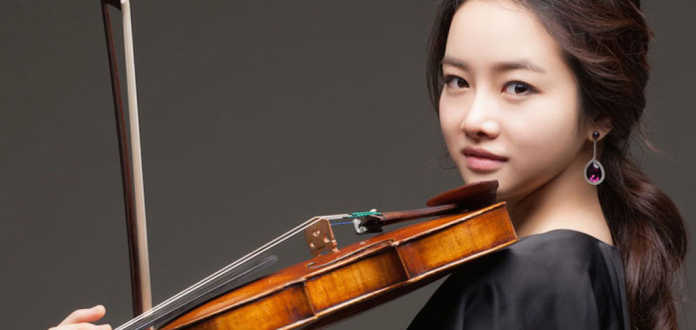 South Korean violin virtuoso Bomsori Kim has, in recent years, firmly established herself as one of the eminent young, rising stars of the international concert stage.
A post-graduate Artist Diploma student of Sylvia Rosenberg and Ronald Copes at The Juilliard School, Bomsori is a former major prize winner at the Wieniawski, Montreal, Joseph Joachim, Tchaikovsky, Sendai, Sibelius, Qingdao and ARD International Violin Competitions.
Her recent orchestral debuts include solo performances with the Bavarian Radio Symphony, KBS Symphony Orchestra, Finnish Radio Symphony, Montreal Symphony, Helsinki Philharmonic and the Munich Chamber Orchestra – and recitals are Vienna's Musikverein Golden Hall and Moscow's Tchaikovsky Hall.
She currently performs on a 1774 Giovanni Battista Guadagnini Violin – on generous loan from the Kumho Instrument Bank.
In April 2017, she joined the roster of the Hannover-based Liu Kotow International Management – for worldwide General Management.
BOMSORI KIM | BRAHMS VIOLIN CONCERTO | YOEL LEVI & KBS SYMPHONY ORCHESTRA | 2017 
BOMSORI KIM | WIENIAWSKI | VIOLIN CONCERTO NO. 2 IN D MINOR | MAREK PIJAROWSKI & POZNAŃ PHILHARMONIC ORCHESTRA | 2016 INTERNATIONAL HENRYK WIENIAWSKI VIOLIN COMPETITION 
BOMSORI KIM | SHOSTAKOVICH | VIOLIN CONCERTO NO. 1 IN A MINOR | GIANCARLO GUERRERO & MONTREAL SYMPHONY ORCHESTRA | 2016 MONTREAL INTERNATIONAL VIOLIN COMPETITION
BOMSORI KIM & KATARZYNA BUDNIK-GAŁAZKA | MOZART | SINFONIA CONCERTANTE | 1ST MVT | AGNIESZKA DUCZMAL & POLISH RADIO CHAMBER ORCHESTRA | 2016 INTERNATIONAL HENRYK WIENIAWSKI VIOLIN COMPETITION
BOMSORI KIM & HANNA HOLEKSA | KREISLER | SCHON ROSMARIN | 2016 INTERNATIONAL HENRYK WIENIAWSKI VIOLIN COMPETITION 
BOMSORI KIM & HANNA HOLEKSA | WIENIAWSKI | POLONAISE BRILLANTE IN D MAJOR, OP. 4 | 2016 INTERNATIONAL HENRYK WIENIAWSKI VIOLIN COMPETITION 
BOMSORI KIM | YSAYE | SOLO VIOLIN SONATA NO. 3 IN D MINOR, OP. 27 "BALLADE" | 2016 MONTREAL INTERNATIONAL VIOLIN COMPETITION
BOMSORI KIM & PHILIP CHIU | SAINT-SAENS | INTRODUCTION ET RONDO CAPRICCIOSO IN A MINOR, OP. 28 | 2016 MONTREAL INTERNATIONAL VIOLIN COMPETITION
BOMSORI KIM | PAGANINI | CAPRICE NO. 24 IN A MINOR, OP. 1 | 2016 MONTREAL INTERNATIONAL VIOLIN COMPETITION
BOMSORI KIM & PHILIP CHIU | KAROL SZYMANOWSKI | MYTHES "LA FONTAINE D'ARETHUSE", OP. 30 NO. 1 | 2016 MONTREAL INTERNATIONAL VIOLIN COMPETITION
Name: Bomsori Kim
Violin: J.B. Guadagnini Turin c.1774
Bow: W.E. Hill & Sons
Teacher: Sylvia Rosenberg | Ronald Copes | YoungUck Kim
Comments
comments