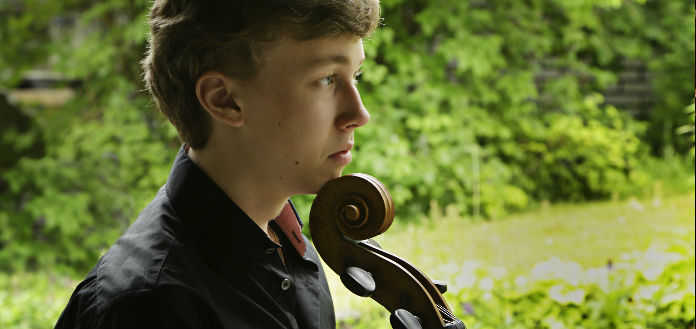 18 year old Finnish-Dutch cellist, Jonathan Roozeman is quickly building an international reputation as a young instrumental soloist of outstanding potential.
A student of Martti Rousi at the Sibelius Academy and Frans Helmerson at the Kronberg Academy, Jonathan is a major prize winner at the Paulo, Gaspar Cassado and Tchaikovsky International Cello Competitions.
His recent solo engagements include performances with the Mariinsky Theatre Orchestra, the St. Petersburg Philharmonic, the Moscow Virtuosi, the Finnish Radio Symphony Orchestra, the Tapiola Sinfonietta, Pori Orchestra and the Ostrobothnian Chamber Orchestra.
He currently serves as Artist-in-Residence at the Turku Festival, in Finland – and was recently announced as a Finalist at the prestigious New York Naumburg Competition.
JONATHAN ROOZEMAN | PROKOFIEV | SYMPHONY-CONCERTO IN E MINOR, OP. 25 | NIKOLAI ALEXEEV & THE DRAFT | 2015 INTERNATIONAL TCHAIKOVSKY COMPETITION
JONATHAN ROOZEMAN | HAYDN | CELLO CONCERTO NO. 1 | 1ST MVT | VALERY GERGIEV & MARIINSKY ORCHESTRA | 2015 INTERNATIONAL TCHAIKOVSKY COMPETITION
JONATHAN ROOZEMAN | ELGAR | CELLO CONCERTO | 2ND MVT | PAUL WATKINS & AMSTERDAM CONSERVATORY SYMPHONY ORCHESTRA | NATIONAL CELLO COMPETITION
JONATHAN ROOZEMAN | GASPAR CASSADO | SUITE FOR SOLO CELLO | 2015 INTERNATIONAL TCHAIKOVSKY COMPETITION
JONATHAN ROOZEMAN | TCHAIKOVSKY | VARIATIONS ON A ROCOCO THEME, OP. 33 | FINNISH RADIO SYMPHONY ORCHESTRA
JONATHAN ROOZEMAN | SARASATE | ZIGEUNERWEISEN | 2013 GASPAR CASSADO INTERNATIONAL CELLO COMPETITION
JONATHAN ROOZEMAN | SCHUBERT | SONATA FOR ARPEGGIONE AND PIANO, D 821 | 2013 GASPAR CASSADO INTERNATIONAL CELLO COMPETITION
JONATHAN ROOZEMAN | BOCCHERINI | CELLO SONATA IN A MAJOR, G. 4 | 2013 GASPAR CASSADO INTERNATIONAL CELLO COMPETITION
JONATHAN ROOZEMAN | GASPAR CASSADO | DANCE OF THE GREEN DEVIL | 2013 GASPAR CASSADO INTERNATIONAL CELLO COMPETITION
JONATHAN ROOZEMAN | BEETHOVEN | SONATA FOR CELLO AND PIANO NO. 3 | 1ST MVT | 2013 GASPAR CASSADO INTERNATIONAL CELLO COMPETITION
JONATHAN ROOZEMAN | BACH | UNACCOMPANIED CELLO SUITE NO. 6 | PRELUDE & SARABANDE | 2013 GASPAR CASSADO INTERNATIONAL CELLO COMPETITION
Name: Jonathan Roozeman
Cello: 1707 David Tecchler, Rome 
Bow: André Richaume, Dominique Peccatte
Accessories: Andrea Rosin, Wooden Resonance XL endpin
Teacher: Frans Helmerson
Comments
comments