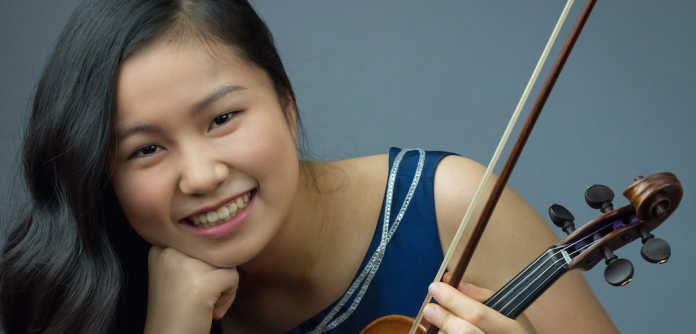 18-year-old South Korean violinist SooBeen Lee is quickly establishing an international reputation as one of the most prodigiously talented instrumentalists to emerge in recent years.
A student of Miriam Fried at the New England Conservatory, SooBeen is a former major prize winner at the Menuhin and David Oistrakh International Violin Competitions – and the Young Concert Artist International Auditions.
Her recent debuts include solo engagements with the Gwacheon Symphony Orchestra, Seoul Philharmonic, the Suwon Philharmonic Orchestra, Busan Philharmonic Orchestra, Incheon Philharmonic Orchestra, Gangnam Symphony Orchestra and the KBS Symphony.
SooBeen currently performs on a 1794 Giuseppe Guadagnini violin – on generous loan from Kumho Asiana Cultural Foundation.
VC YOUNG ARTIST SOOBEEN LEE | SIBELIUS VIOLIN CONCERTO | DAVID LOEBEL & NEW ENGLAND CONSERVATORY SYMPHONY ORCHESTRA | 2018 | 18-YEARS-OLD
VC YOUNG ARTIST SOOBEEN LEE & NOREEN POLERA | TCHAIKOVSKY | MÉLODIE | 2016 | 16-YEARS-OLD
VC YOUNG ARTIST SOOBEEN LEE & NOREEN POLERA | BEETHOVEN | VIOLIN SONATA NO. 6 IN A MAJOR | 2ND MVT | 2016 | 16-YEARS-OLD
VC YOUNG ARTIST SOOBEEN LEE & NOREEN POLERA | SAINT-SAENS | INTRODUCTION & RONDO CAPRICCIOSO | 2016 | 16-YEARS-OLD
VC YOUNG ARTIST SOOBEEN LEE | BACH | PARTITA NO. 3, BWV 1006 | PRELUDE & LOURE | 15-YEARS-OLD
VC YOUNG ARTIST SOOBEEN LEE & NOREEN POLERA | TARTINI | "DEVIL'S TRILL" VIOLIN SONATA | 2016 | 16-YEARS-OLD
VC YOUNG ARTIST SOOBEEN LEE | PIAZZOLLA | FOUR SEASONS OF BUENOS AIRES | WINTER | KUMHO ASIANA SOLOISTS | 2015 | 15-YEARS-OLD
Name: SooBeen Lee
Violin: 

1794 Giuseppe Guadagnini Violin – on generous loan from Kumho Asiana Cultural Foundation
Bow: P.F. Pelloux
Accessories: Lapella Rosin
Teachers: Miriam Fried
Comments
comments