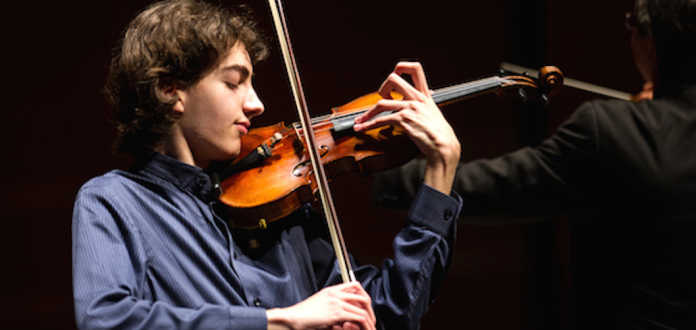 19 year old Dutch-American violin virtuoso, Stephen Waarts is quickly building an international reputation as one of the most prodigiously gifted young concert artists to emerge in recent years.
A student of Aaron Rosand at the Curtis Institute of Music, he is a major prize winner at the Queen Elisabeth, Menuhin, Spohr, Sarasate and Montreal International Violin Competitions – and 1st prize recipient at the Young Concert Artists International Auditions.
[video_lightbox_youtube video_id="mWBoHLXYWZU" width="590″ height="385″ auto_thumb="1″]
STEPHEN WAARTS | BARTOK VIOLIN CONCERTO NO. 2 | 2015 QUEEN ELISABETH INTERNATIONAL VIOLIN COMPETITION
His recent accolades include The Strad magazine reviewing: 'From the first note … I was hooked, and within a few bars I was moved to tears' and The Telegraph suggesting: 'From the first bars… it was blindingly clear that this boy… was something special … a soul,'
Stephen is also an accomplished mathematician and has won several national math awards.
He currently performs on a 1868 Jean-Baptiste Vuillaume violin.
[video_lightbox_youtube video_id="3SBr27PItz8″ width="590″ height="385″ auto_thumb="1″]
STEPHEN WAARTS | MOZART VIOLIN CONCERTO NO. 4 | 2015 QUEEN ELISABETH INTERNATIONAL VIOLIN COMPETITION
[video_lightbox_youtube video_id="AeLOPtHdbNI" width="590″ height="385″ auto_thumb="1″]
STEPHEN WAARTS | YSAYE | SONATA NO. 4 | 2015 QUEEN ELISABETH INTERNATIONAL VIOLIN COMPETITION
[video_lightbox_youtube video_id="mmgtQaY6GOw" width="590″ height="385″ auto_thumb="1″]
STEPHEN WAARTS & THOMAS HOPPE | BRAHMS | SCHERZO (F.A.E.) | 2015 QUEEN ELISABETH INTERNATIONAL VIOLIN COMPETITION
[video_lightbox_youtube video_id="hWCrBJaFGgg" width="590″ height="385″ auto_thumb="1″]
STEPHEN WAARTS | SZYMANOWSKI | DRYADS AND PAN (MYTHS OP. 30)| 2015 QUEEN ELISABETH INTERNATIONAL VIOLIN COMPETITION
[video_lightbox_youtube video_id="JHTW_eY1kcI" width="590″ height="385″ auto_thumb="1″]
STEPHEN WAARTS & RICK ROWLEY | SZYMANOWSKI | NOCTURNE & TARANTELLA | 2014 MENUHIN COMPETITION | 1ST PRIZE
[video_lightbox_youtube video_id="pGDqHgNSM2o" width="590″ height="385″ auto_thumb="1″]
STEPHEN WAARTS | HAYDN | STRING QUARTET OP. 76, NO. 2 | 2014 MENUHIN COMPETITION | 1ST PRIZE
[video_lightbox_youtube video_id="4v0xYtPxmQ0″ width="590″ height="385″ auto_thumb="1″]
STEPHEN WAARTS | PAGANINI | SOLO CAPRICE NO. 4 | 2014 MENUHIN COMPETITION | 1ST PRIZE
[video_lightbox_youtube video_id="sm3iPwIfsMQ" width="590″ height="385″ auto_thumb="1″]
STEPHEN WAARTS | BACH | SOLO SONATA IN G MINOR | SICILIANA & PRESTO | 2014 MENUHIN COMPETITION | 1ST PRIZE
[video_lightbox_youtube video_id="RbuA8hh_ZZw" width="590″ height="385″ auto_thumb="1″]
STEPHEN WAARTS | PROKOFIEV VIOLIN CONCERTO NO. 2 IN G MINOR | 1ST MVT | 2014 MENUHIN COMPETITION | 1ST PRIZE
[video_lightbox_youtube video_id="qFWJk528Zxs" width="590″ height="385″ auto_thumb="1″]
STEPHEN WAARTS | PROKOFIEV | VIOLIN CONCERTO NO. 2 IN G MINOR | 2ND MVT | 2014 MENUHIN COMPETITION | 1ST PRIZE
[video_lightbox_youtube video_id="o6zLXsii1z0″ width="590″ height="385″ auto_thumb="1″]
STEPHEN WAARTS | PROKOFIEV | VIOLIN CONCERTO NO. 2 IN G MINOR | 3RD MVT | 2014 MENUHIN COMPETITION | 1ST PRIZE
Name: Stephen Waarts
Violin: Jean-Baptiste Vuillaume c.1868
Bow: Dominique Peccatte
Teacher: Aaron Rosand
[video_lightbox_youtube video_id="tr0i7yMDRZU" width="590″ height="385″ auto_thumb="1″]
MEET THE PRO | VC 'YOUNG ARTIST' STEPHEN WAARTS | VC '20 QUESTIONS'
PREVIOUS
Comments
comments