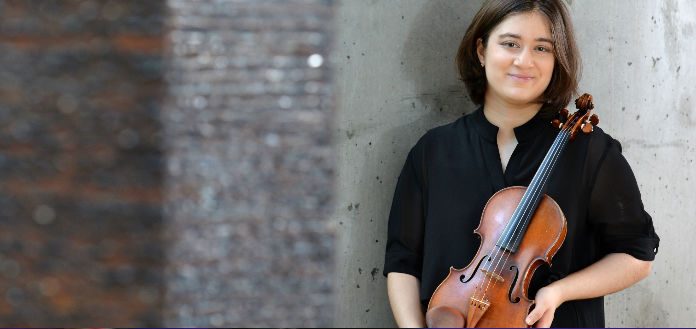 21 year old Georgian-Turkish violinist Veriko Tchumburidze is quickly building a reputation as one of the new rising stars of the international concert stage – praised for her maturity, conviction and profound musicality.
A student of Professor Ana Chumachenko at Hochschule für Musik und Theater, Veriko is a former 1st prize winner at the International Tchaikovsky Competition for Young Musicians - and in November of this year was awarded 1st prize at the coveted 2016 Wieniawski International Violin Competition, in Poznan, Poland.
She currently concertises on a 1756 Giambattista Guadagnini violin - on generous loan from the Deutsche Stiftung Musikleben.
VERIKO TCHUMBURIDZE | SHOSTAKOVICH | VIOLIN CONCERTO NO. 1 | LUKASZ BOROWICZ & POZNAN PHILHARMONIC ORCHESTRA | 2016 HENRYK WIENIAWSKI INTERNATIONAL VIOLIN COMPETITION | 1ST PRIZE
VERIKO TCHUMBURIDZE | WIENIAWSKI | VIOLIN CONCERTO NO. 2 | MAREK PIJAROWSKI & POZNAN PHILHARMONIC ORCHESTRA | 2016 HENRYK WIENIAWSKI INTERNATIONAL VIOLIN COMPETITION | 1ST PRIZE
https://www.youtube.com/watch?v=MqA5au5qVQ0&showinfo=0&autohide=1
VERIKO TCHUMBURIDZE & KATARZYNA BUDNIK-GALAZKA | MOZART | SINFONIA CONCERTANTE | 1ST MVT | AGNIESZKA DUCZMAL AND POLISH RADIO CHAMBER ORCHESTRA | 2016 HENRYK WIENIAWSKI INTERNATIONAL VIOLIN COMPETITION 
https://www.youtube.com/watch?v=4ykMsyB34jk&showinfo=0&autohide=1
VERIKO TCHUMBURIDZE | MOZART | VIOLIN CONCERTO NO. 5 | 1ST MVT | AGNIESZKA DUCZMAL AND POLISH RADIO CHAMBER ORCHESTRA | 2016 HENRYK WIENIAWSKI INTERNATIONAL VIOLIN COMPETITION 
https://www.youtube.com/watch?v=xm6Ww75FUTE&showinfo=0&autohide=1
VERIKO TCHUMBURIDZE & HANNA HOLEKSA | FRANCK | SONATA NO. 1 FOR VIOLIN AND PIANO | 1ST MVT | 2016 HENRYK WIENIAWSKI INTERNATIONAL VIOLIN COMPETITION 
https://www.youtube.com/watch?v=lwSHQCOHWko&showinfo=0&autohide=1
VERIKO TCHUMBURIDZE & HANNA HOLEKSA | WIENIAWSKI | SCHERZO-TARANTELLA IN G MINOR | 2016 HENRYK WIENIAWSKI INTERNATIONAL VIOLIN COMPETITION
https://www.youtube.com/watch?v=kmw7pUIBMys&showinfo=0&autohide=1
VERIKO TCHUMBURIDZE & HANNA HOLEKSA | KREISLER | GYPSY CAPRICE | 2016 HENRYK WIENIAWSKI INTERNATIONAL VIOLIN COMPETITION
Name: Veriko Tchumburidze
Violin: 1756 Giambattista Guadagnini
Bow: Johann Christian Süss
Teacher: Professor Ana Chumachenko