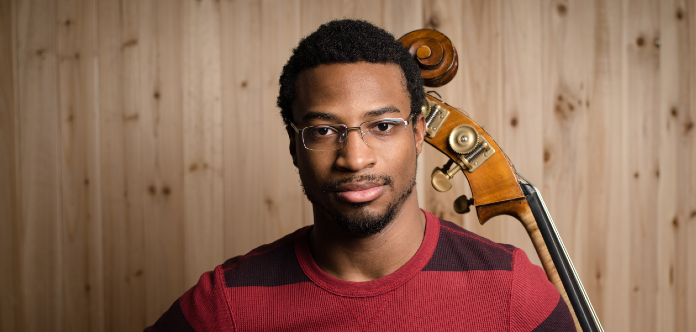 25-year-old African-American double bassist Xavier Foley is quickly building an international reputation as an emerging young concert artist of outstanding potential.
A graduate of the Curtis Institute of Music, where he studied with Edgar Meyer and Hal Robinson, Xavier is a former 1st prize winner at the Young Concert Artists International Auditions, Astral National Auditions and the Sphinx Competition - and was the recent recipient of a prestigious 2018 Avery Fisher Career Grant.
His recent debuts include solo engagements with the Orchard Park Symphony, Atlanta Symphony, Nashville Symphony, Brevard Concert Orchestra, Philadelphia Orchestra and the Sphinx Symphony Orchestra.
He has also appeared at the Marlboro Music Festival, Tippet Rise Music Festival, Bridgehampton and Skaneateles Festivals, New Asia Chamber Music Society, South Mountain Concerts and the Wolf Trap Festival.
VC YOUNG ARTIST XAVIER FOLEY & AMY ZANROSSO | MOZART | VIOLIN SONATA IN E MINOR K. 304 | 2020
VC YOUNG ARTIST XAVIER FOLEY | ETUDE NO. 10 "THE DANCE" | 2020
VC YOUNG ARTIST XAVIER FOLEY | ETUDE NO. 3 | 2020
VC YOUNG ARTIST XAVIER FOLEY & RUBEN RENGEL | FOLEY | DOUBLE CONCERTO |  2020
VC YOUNG ARTIST XAVIER FOLEY & KELLY LIN | FOLEY | ALWAYS ON THE MOVE | 3RD MVT | 2020
VC YOUNG ARTIST XAVIER FOLEY | BACH | CELLO SUITE NO. 1 IN G MAJOR | ALLEMANDE | YOUNG CONCERT ARTISTS | 2018 NEW YORK DEBUT 
VC YOUNG ARTIST XAVIER FOLEY | ORIGINAL WORK | IRISH FANTASY | YOUNG CONCERT ARTISTS | 2018 NEW YORK DEBUT 
VC YOUNG ARTIST XAVIER FOLEY & KELLY YU-CHIEH LIN | JOHANNES MATTHIAS SPERGER | SONATA IN B MINOR | 2ND MVT | YOUNG CONCERT ARTISTS | 2018 NEW YORK DEBUT
VC YOUNG ARTIST XAVIER FOLEY & KELLY YU-CHIEH LIN | FRANCK | SONATA IN A MAJOR | 3RD MVT | YOUNG CONCERT ARTISTS | 2018 NEW YORK DEBUT
Name: Xavier Foley 
Double Bass: 2008 Rumano Solano
Bow: Carbow
Teachers: Edgar Meyer | Hal Robinson