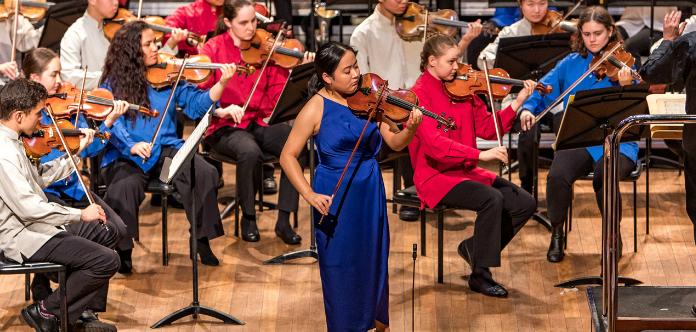 16-year-old Natalie Kendy from Australia has this week been awarded 1st prize at the 2019 Australian National Youth Concerto Competition – in Brisbane, Australia.
Natalie is a current student of Dr. Evgeny Sorkin at the Sydney Conservatorium of Music 'Rising Stars' Pre-College program.
Widely regarded as the most significant development prize for Australian string soloists 17 years and younger, previous 1st prize winners include Tchaikovsky Competition prize winner, violinist Jane Peters; Australian Chamber Orchestra Artistic Director and Leader, Richard Tognetti; Stuttgart Radio Symphony 1st Concertmaster, Natalie Chee; international cello soloists Li Wei Qin and Clancy Newman; Menuhin and Queen Elisabeth International Violin Competitions 1st Prize Winner, VC Artist Ray Chen – and Michael Hill International Violin Competition 1st Prize Winner, VC Artist Suyeon Kang.
The Australian National Youth Concerto Competition was established by conductor John Curro and the Queensland Youth Orchestras in 1976 to encourage the development of outstanding young Australian string players.
This year's jury also commended the high level of playing by Finalists, 17-year-old cellist Ji Woo Yoon and 14-year-old violinist Anna Suzuki.