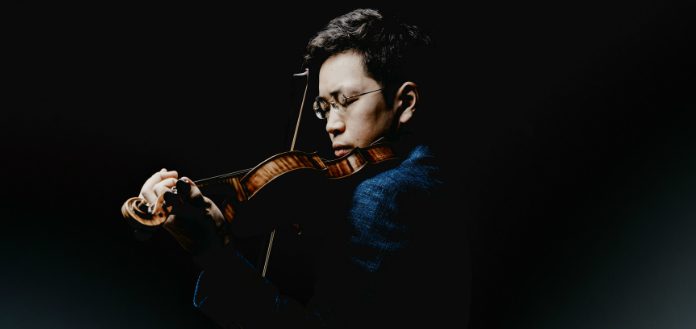 Taiwanese-American VC Artist Paul Huang is building an impressive international reputation for his eloquent music making​, distinctive sound and effortless virtuosity.
​A graduate of The Juilliard School, Paul is a former 1st prize winner at the ​Tibor Varga International Violin Competition – and was awarded a prestigious 2015 Avery Fisher Career Grant and 2017 Lincoln Center Award for Emerging Artists.
His recent solo engagements include debuts with the Mariinsky Orchestra, Detroit Symphony, Houston Symphony, Baltimore Symphony, Taipei Symphony and National Symphony Orchestra of Taiwan and at the Lucerne Festival and Aspen Music Festival – and he was recently invited to fill in for Anne-Sophie Mutter at the Bravo! Vail Music Festival.
He has collaborated with chamber musicians including Gil Shaham, Nobuko Imai, Mischa Maisky, Lynn Harrell, Yefim Bronfman and Marc-André Hamelin.
He currently performs on the 1742 Ex-Wieniawski Guarneri del Gesu – on generous loan from Chicago's Stradivarius Society.
VC ARTIST PAUL HUANG & JAMES JAEWON MOON | KREISLER | LONDONDERRY AIR | PYEONGCHANG MUSIC FESTIVAL | 2019
VC ARTIST PAUL HUANG | MOZART | VIOLIN CONCERTO NO. 4 IN D MAJOR | 3RD MVT | BRAVO! VAIL | CHAMBER ORCHESTRA VIENNA-BERLIN | 2019
VC ARTIST PAUL HUANG, NOBUKO IMAI & JIAN WANG | BEETHOVEN | STRING TRIO IN G MAJOR OP. 9 NO. 1 | 3RD & 4TH MVTS | PYEONGCHANG MUSIC FESTIVAL | 2019
VC ARTIST PAUL HUANG | BRUCH | VIOLIN CONCERTO NO. 1 IN G MINOR | 1ST MVT | CARL ST. CLAIR & THE PACIFIC SYMPHONY | 2019
VC ARTIST PAUL HUANG, CLIVE GREENSMITH & GLORIA CHIEN | ARENSKY | PIANO TRIO NO. 1 IN D MINOR | 3RD MVT | [email protected] | 2016
VC ARTIST PAUL HUANG & ALESSIO BAX | RESPIGHI | VIOLIN SONATA IN B MINOR | 2ND MVT | CHAMBER MUSIC SOCIETY OF LINCOLN CENTER | 2017
VC ARTIST PAUL HUANG, DANBI UM & ORION WEISS | SARASATE | NAVARRA | [email protected] | 2017
VC ARTIST PAUL HUANG, SEAN LEE, PAUL NEUBAUER, VC YOUNG ARTIST MATTHEW LIPMAN AND PAUL WATKINS | MENDELSSOHN | STRING QUINTET NO.2 IN B-FLAT MAJOR | 1ST MVT | 2017
VC ARTIST PAUL HUANG, SEAN LEE, PAUL NEUBAUER, VC YOUNG ARTIST MATTHEW LIPMAN AND PAUL WATKINS | MENDELSSOHN | STRING QUINTET NO.2 IN B-FLAT MAJOR | 4TH MVT | 2017
VC ARTIST PAUL HUANG & WARREN JONES | SARASATE | ROMANZA ANDALUZA | CAMERATA PACIFICA | 2015
VC ARTIST PAUL HUANG | YSAŸE | SOLO SONATA NO. 3 'BALLADE' | CAMERATA PACIFICA | 2015
Name: Paul Huang 
Violin: 1742 "Ex-Wieniawski" Guarneri del Gesu
Bow: François Xavier Tourte
Teachers: Hyo Kang, I-Hao Lee