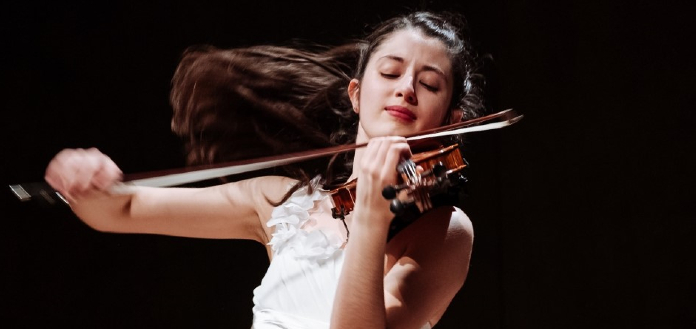 17-year-old Spanish violinist María Dueñas is quickly building an international reputation as an emerging young concert artist of outstanding potential.
A student of Boris Kuschnir at the Vienna and Graz Universities of Music, María is a former 1st and Grand Prix winner at the Leonid Kogan, Georg Philipp Telemann and Yankelevitch International Violin Competitions – and was awarded a 1st prize at the 2017 Zhuhai International Mozart Competition for Young Musicians, in China.
María's recent solo engagements include performances with the National Philharmonic Orchestra of Russia, Galicia Symphony and San Francisco Symphony Orchestra.
Her upcoming debuts include performances with the Pittsburgh Symphony Orchestra, Oslo Philharmonic Orchestra, St. Petersburg Symphony Orchestra, Dresden Philharmonic Orchestra and the Estonian National Symphony Orchestra.
She currently performs on the 1736 'Muntz' Guarneri del Gèsu violin - on generous loan from the Nippon Music Foundation and a Nicolo Gagliano on generous loan from the Deutsche Stiftung Musikleben.
VC YOUNG ARTIST MARÍA DUEÑAS | PAGANINI | VIOLIN CONCERTO NO. 1 | 1ST MVT | VLADIMIR SPIVAKOV & NATIONAL ORCHESTRA OF RUSSIA 
VC YOUNG ARTIST MARÍA DUEÑAS | PAGANINI | VIOLIN CONCERTO NO. 1 | 2ND MVT | VLADIMIR SPIVAKOV & NATIONAL ORCHESTRA OF RUSSIA 
VC YOUNG ARTIST MARÍA DUEÑAS | PAGANINI | VIOLIN CONCERTO NO. 1 | 3RD MVT | VLADIMIR SPIVAKOV & NATIONAL ORCHESTRA OF RUSSIA 
VC YOUNG ARTIST MARÍA DUEÑAS | LALO | SYMPHONIE ESPAGNOLE | MIHHAIL GERTS & ESTONIA NATIONAL ORCHESTRA 
VC YOUNG ARTIST MARÍA DUEÑAS & ITAMAR GOLAN | SZYMANOWSKI VIOLIN SONATA OP. 9 IN D MINOR 
VC YOUNG ARTIST MARÍA DUEÑAS, MIHHAIL GERTS & KASPAR ULJAS | PIAZZOLLA | YO SOY MARÍA 
VC YOUNG ARTIST MARÍA DUEÑAS & ZOYA ABOLITS | BRAHMS VIOLIN SONATA NO. 3 IN D MINOR 
VC YOUNG ARTIST MARÍA DUEÑAS & ITAMAR GOLAN | WIENIAWSKI | VARIATIONS ON AN ORIGINAL THEME
VC YOUNG ARTIST MARÍA DUEÑAS | BACH | SONATA NO. 1 IN G MINOR | FUGUE
VC YOUNG ARTIST MARÍA DUEÑAS, MIHHAIL GERTS & KASPAR ULJAS | PIAZZOLLA | LIBERTANGO
Violin: Guarneri del Gèsu "Muntz" 1736 on generous loan from the Nippon Music Foundation | Nicolo Gagliano, Naple 17?4 on generous loan from Deutsche Stiftung Musikleben
Bow: A. Richaume
Strings: Larsen Strings on the Guarneri del Gèsu Thomastik Strings on the Nicolo Gagliano
Accessories: Bonmusica shoulder rest Thomastik Infeld Vienna, Vision Viola Rosin
Teachers: Boris Kuschnir