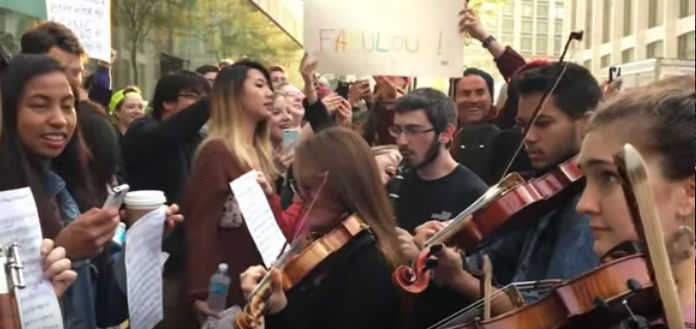 The infamous Kansas-based religious hate group, The Westboro Baptist Church has today picketed The Juilliard School in New York City - holding signs protesting homosexuality, Jews, the media, Juilliard and its students.
"If you had taught those children to invest 5% of the energy they use for the vanity called The Arts, America would not be leading the world in racing to destruction …" the church's godhatesfags.com website has read.
"This is the heart and soul of the arts community …. [Juilliard] have taught this nation proud sin … they have filled the nation with proud sodomites ..." Shirley Phelps Roper, 1 of 3 protestors to attend the 66th Street rally has told playbill.com.
If we could give ONE sermon to the @JuilliardSchool students we talked to this morning >> https://t.co/zoFttuOq6D | pic.twitter.com/mYNBo241Gz

— Westboro Baptist (@WBCSaysRepent) November 3, 2016
Juilliard Students Greet Westboro Baptist. "[Juilliard] taught this nation proud sin!"https://t.co/MDZuDwOs5s pic.twitter.com/WsHlh62BRj

— Westboro Baptist (@WBCSaysRepent) November 3, 2016
The extremist church, known for its hate speech, regularly stages anti-semitic, racist and homophobic protests across the United States.
"We strongly recommend that students, faculty, and staff ignore this demonstration and not amplify their message by giving them the attention they seek …" the School's Facebook page has read.
Approximately 100 Juilliard students chose instead to greet the protestors with a live Rick Astley 'Rick Roll' - one reveler holding a sign in rainbow-lettering that read: 'Hell must be fabulous!' 
JUILLIARD SCHOOL | WESTBORO BAPTIST CHURCH PROTEST | NOVEMBER 3RD 2016 | RICK ROLL