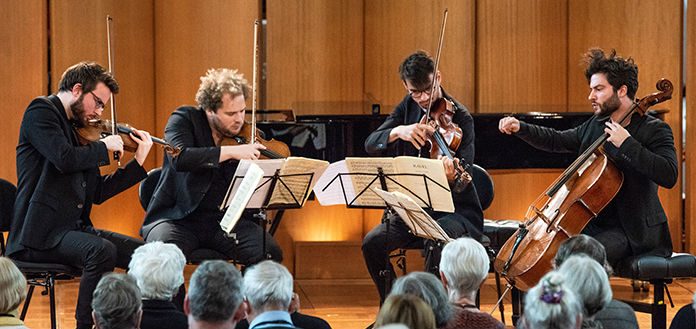 The 6 ensembles progressing to the Grand-Final stage of the 2018 Melbourne International Chamber Music Competition have today been announced at the Australian National Academy of Music – in Melbourne, Australia.
The 2018 String Quartet Grand-Finalists are:
Callisto Quartet (United States)
Eliot Quartett (Austria/Russia/Germany)
Goldmund Quartett (Germany)
The 2018 Piano Trio Grand-Finalists are:
Amatis Piano Trio (Netherlands, Germany/United Kingdom)
Trio Gaon (Germany/South Korea)
Trio Marvin (Russia/Kazakhstan/Germany)
Open to international string quartets and piano trios, whose members are under the age of 35, the Grand Prize winning ensemble will receive AUD $30,000, a Musica Viva Australian recital tour – plus a number of significant career development opportunities.
The 2018 jury comprises: Sonia Simmenauer, Ian Munro, Simin Ganatra, Gerhard Schulz, Yura Lee, Alasdair Tait and Kyril Zlotnikov.
Previous prize winners include: The Noga Quartet, Giocoso String Quartet and the Linos Piano Trio.
PICTURED: 2018 MELBOURNE INTERNATIONAL CHAMBER MUSIC COMPETITION GRAND-FINALISTS, GOLDMUND QUARTETT
PHOTO CREDIT: MIKE KEATING