Canadian 2019 Juno Music Award Nominees Announced - Inc. VC Young Artist Blake Pouliot
The classical music nominees for the 2019 Juno Awards have been announced - including violinists James Ehnes and VC Young Artist Blake Pouliot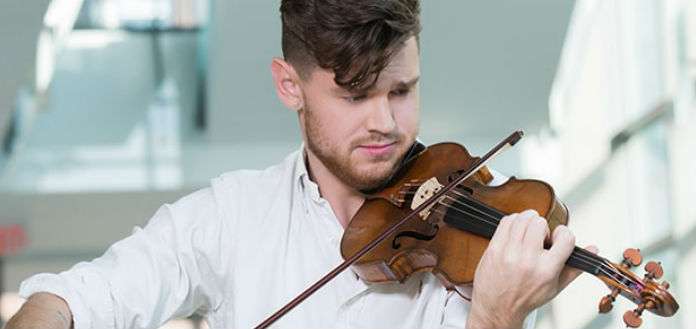 The classical music nominees for Canada's 2019 Juno Music Awards have this week been announced - including violinists James Ehnes and VC Young Artist Blake Pouliot.
Presented by the Canadian Academy of Recording Arts and Sciences, the Juno's are awarded annually to Canadian musicians and bands in recognition of artistic and technical excellence.
The 2019 Juno Awards Classical Music nominees are:
Classical Album of the Year: Solo of Chamber
Blake Pouliot with Hsin-I Huang - 'Ravel & Debussy: Sonates'
Andrew Wan & Charles Richard-Hamelin - 'Beethoven: Violin Sonatas Nos. 6, 7 & 8'
Angela Hewitt - 'Scarlatti: Sonatas Vol.2'
Gryphon Trio - 'The End of Flowers: Works by Clarke & Ravel'
Marc-André Hamelin - 'Schubert: Piano Sonata in B Flat Major D.960; Four Impromptus D.935'
Classical Album of the Year: Large Ensemble
James Ehnes with Seattle Symphony and Detroit Symphony Orchestra - 'Newton Howard & Kernis: Violin Concertos; Tovey: Stream of Limelight'
Canada's National Arts Centre Orchestra/Orchestre du Centre National Des Arts du Canada conducted by Alexander Shelley - 'New Worlds/Nouveaux Mondes'
Louis Lortie with BBC Philharmonic - 'Saint-Saëns: Piano Concertos Nos. 1, 2 and 4'
Thunder Bay Symphony Orchestra conducted by Arthur Post with Gryphon Trio - ;Into the Wonder;
Toronto Symphony Orchestra conducted by Peter Oundjian featuring Louis Lortie, Sarah Jeffrey & Teng Li - 'Vaughan Williams'
Classical Album of the Year: Vocal or Choral
Barbara Hannigan with Reinbert De Leeuw - 'Vienna: Fin de siècle'
Choeur de l'Orchestre Symphonique de Montréal with Orchestre Symphonique de Montréal, Conducted by Kent Nagano with Guest Soloists - 'Bernstein: A Quiet Place'
Elmer Iseler Singers featuring Patricia O'Callaghan - 'David Braid: Corona Divinae Misericordiae'
Joyce El-Khoury - 'Écho'
Miriam Khalil - 'Ayre: Live'
Classical Composition of the Year
Ana Sokolović - 'Golden Slumbers Kiss your Eyes'
Bekah Simms - 'Granitic'
Cassandra Miller - 'About Bach'
Nicole Lizée - 'Katana of Choice'
Vincent Ho - 'Arctic Symphony'
The 2019 award winners will be announced on the 17th of March - at a special ceremony in London, Ontario, Canada.