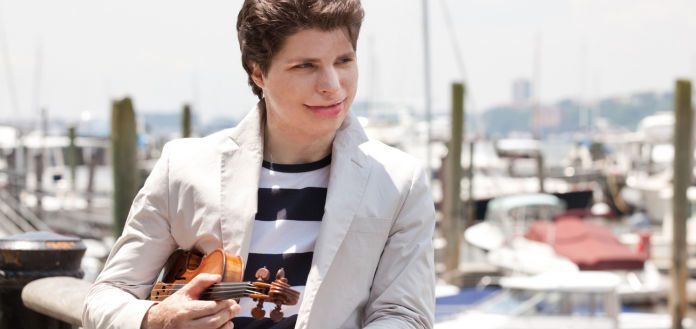 The Violin Channel recently caught up with Italian-born German-American violinist, VC Artist Augustin Hadelich - in New York City.
In a VC-exclusive guest blog, the 34-year-old virtuoso shares his thoughts and process for composing one's own original concerto cadenzas.
VC ARTIST AUGUSTIN HADELICH | BRAHMS VIOLIN CONCERTO | ORIGINAL 1ST MOVEMENT CADENZA | MIGUEL HARTH-BEDOYA & NORWEGIAN RADIO ORCHESTRA | 2017
"Composers in the classical and early romantic era left a space for soloists to compose their own cadenza, in order to improvise on the themes and show off their virtuosity. As composers throughout the 19th century became increasingly specific in their instructions on tempi, dynamics, articulation and ornamentation, composers eventually started to write their own cadenzas for their concertos. Mendelssohn was the first to provide his own cadenza to a violin concerto, and Tchaikovsky, Sibelius, Bartók, Shostakovich and many others followed this example.
Until the early 20th century, it was customary and even a point of pride, for great violinists from Joachim to Kreisler to Heifetz to write their own cadenzas to the Mozart, Beethoven and Brahms concertos - concertos without a cadenza by the composer. Unfortunately, this tradition did not continue into our time. Writing a cadenza is a a very rewarding process for the performer and provides variety and a personal viewpoint to the listener, who may have heard the piece before. In order to write in the composer's style and make sure that the cadenza will fit into the form of the concerto in a logical way, it is essential to study and analyze the composer's use of form, rhythm and their harmonic language. For me, it was a humbling experience to compose using Brahms' motives and materials and gave me an even greater appreciation of his genius. For a Mozart concerto cadenza, it is very difficult to find a structure that fits into such perfectly proportioned movements.
Most violinists from the older school wrote cadenzas in their own style. Kreisler's romantic cadenza to the Beethoven is so brilliant that one can overlook that he uses late 19th century harmonic language inside a classical work. Joachim's cadenzas to the Mozart concertos don't work as well anymore in my opinion, because their style feels out of place when heard within a Mozart concerto.
Trying to mimic a composer's style too closely is not ideal either. A cadenza is a personal statement reflecting your thoughts and feelings about the work, and it's important to make bold (but tasteful) compositional decisions, and maybe even add a little humor.
I encourage every violinist to experiment with writing a cadenza - at the very least, you are guaranteed to learn about the style and methods of the composer and you might even have some fun. Should you not like the result, you can just go back to a different cadenza - but you will now see that cadenza in a different light and might even notice the places where Kreisler or Joachim had their own compositional struggles!
Take your time and make many drafts. It's natural that it won't feel like a great piece right away! Gathering ideas and material is the easy part - the hard part is to look at your own work self-critically and be able to change or cut everything that doesn't quite work. Joachim went through countless revisions for his cadenza to the Brahms concerto until he finally arrived at the version that we now know. 
Augustin"