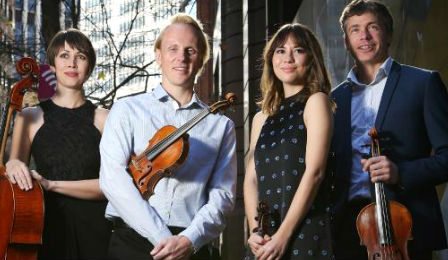 The Australian String Quartet has today announced Australian violinist Dale Barltrop as their new 1st violinist.
Brisbane-born, Dale currently serves as Concertmaster of both the Vancouver Symphony Orchestra and the Melbourne Symphony Orchestra.
He will conclude his tenure in Canada, which he has served since 2009, at the conclusion of the 2015-16 season.
"As I look towards the next chapter of my career, I am excited by the prospect of returning to Australia to take up a position with the renowned Australian String Quartet while continuing my work with the Melbourne Symphony Orchestra," the 35 year old has said, " ... it is a dream come true to balance my two great passions for quartet and orchestral literature and an opportunity I could not pass up."
"It is with a heavy heart that I will leave Vancouver, as I have found a home and friends here that I will cherish for the rest of my life," he has added.
Australian violinist Francesca Hiew was also recently announced as the Adelaide-based ensemble's new 2nd violinist – following the dramatic departure last year of husband and wife violinists Kristian Winther and Ioana Tache, citing 'irreconcilable artistic differences'.
A graduate of the University of Maryland and the Cleveland Institute of Music, Dale also previously served as Principal Second Violin with the Saint Paul Chamber Orchestra.
PICTURED: Australian String Quartet New Lineup: Sharon Draper, Dale Barltrop, Francesca Hiew and Stephen King